USFC: Flying Fermanagh beat Farney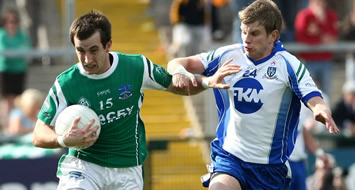 Ulster SFC Quarter-Final:
Fermanagh 2-8 Monaghan 0-10
Fermanagh celebrated the reopening of Brewster Park with a fully deserved Ulster SFC win over Monaghan.
Liam McBarron's early goal laid the foundations, and while the Lakelanders lost their way for a spell in the third quarter, a second goal from Ciaran McElroy got them back on track.
Monaghan finished a man short after Gary McQuaid's frustration earned him a straight red card in the dying moments of a game they will quickly want to forget as they prepare for the Qualifiers.
The Erne men got off to the best possible start when Eamon Maguire's attempt to fist a point came back off a post, and McBarron finished to the net from close range.
But Monaghan began to get a grip on the midfield area, where they won the majority of breaking ball through Damien Freeman and Paul Finlay, whose searching deliveries to the front line had Fermanagh under pressure.
Conor McManus, Tommy Freeman and Finlay all hit the target as the Farney men narrowed the gap to a point by the 13th minute.
But Fermanagh proved more efficient from a limited amount of attacking possession, with Ciaran McElroy squeezing over a point from an almost impossible angle, before Ryan Keenan converted his second free and Eamon Maguire made it 1-4 to 0-3.
Finlay missed a standard free, while two Freeman efforts came back off the same post as the visitors' frustration grew.
And they lived dangerously at the back, needing a vital interception from Dessie Mone to prevent McElroy's pass from reaching McBarron.
McBarron was denied by a superb Shane Duffy save when he latched on to a rebound after Mark Murphy's shot from distance came back off an upright.
Marty McGrath scored an inspirational point to send Fermanagh in with a 1-5 to 0-4 interval lead, but a more driven Monaghan side began to turn over possession in the early stages of the second half.
They narrowed the gap through Tommy Freeman and midfielder Eoin Lennon, and when Finlay floated over a gem off his famed left foot, a point separated the sides with 12 minutes played in the second half.
McGrath dug deep to try and revive Fermanagh's flagging challenge, and his colleagues responded, with Mark Little and Keenan, from a free, restoring the three point advantage.
And they struck for a second goal in the 54th minute when Keenan's cross from the right dropped perfectly for McElroy to punch home at the far post.
When substitute Shane McCabe, who just returned to the squad this week, sliced over a delightful score, Fermanagh were in dreamland, ahead by six points with 12 minutes to play.
McCabe made quite an impact with his darting runs on the left wing, and when Gary McQuaid struck out at the Irish League soccer star, he received a straight red card with three minutes to play.
Fermanagh: R Gallagher, S Goan, H Brady, P Sherry, D Kelly, R McCluskey, T McElroy, M Murphy, M McGrath (0-1), R Keenan (0-3, 3 frees), J Sherry, M Little (0-1), E Maguire (0-1), L McBarron (1-0), C McElroy (1-1).
Subs: S McCabe (0-1) for J Sherry, M Keenan for McElroy, S McDermott for Brady
Monaghan: S Duffy, D Mone, JP Mone, D McArdle, D Freeman, G McQuaid, D Morgan, E Lennon (0-1), D Clerkin, P Finlay (0-3, 1 free), S Gollogly, C McManus (0-1), R Woods, V Corey (0-1), T Freeman (0-3, 2 frees).
Subs: C Hanratty (0-1) for Woods, D Hughes (blood) for D Freeman, Hughes for Morgan, Woods for Gollogly
Referee: D Fahy (Longford).
Wides
Fermanagh 12, Monaghan 8
Yellow cards
Fermanagh: C McElroy,
Monaghan: E Lennon, G McQuaid, D Hughes, D Mone, D Clerkin
Red cards
G McQuaid (Monaghan)
Attendance: 14,500
Related:
Out and About with the 'FUN to Fame' Mascot in Brewster Park