USFC: Armagh v Down Event Info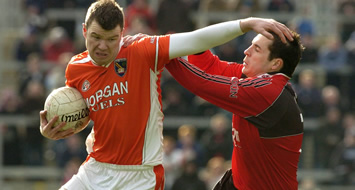 – Sunday 29th June –
– St Tiernach's Park, Clones –
Ulster GAA MFC Semi Final:
Cavan v Tyrone (2.15pm)
Ref: C Brannigan (Down)
Ulster GAA SFC Semi Final:
Armagh v Down (4.00pm)
Ref: Joe McQuillan (Cavan)
– Gates will be open from 12.45pm
—
Ticketing
This is an All-Ticket Event – Valid Tickets will be Required for Entry.
No Tickets will be on sale on the day of the Match.
Tickets are available through County Boards and TicketMaster.
Family Tickets are Available through all County Boards.
Armagh Co Board: (028) 3752 7278
Down Co Board: (028) 4377 0880
Travel and Parking
– Supporters are asked to arrive at the venue no later than 3.15pm
– There will be car parking available at Town Car Parks, Felt House, Mackles, Texaco Site, Starlight Car Park and other local open ground areas operated by private persons.
Be a Good Supporter!
Supporters are asked to:
– Drive safely and do not drive under the influence of alcohol or any other substances.
– Respect the property and residents in the area around the ground.
– Use the Car Parks identified around the town for match day parking, ensure to lock their vehicles and not leave valuables in sight.
– Adhere to the Ground Regulations, which are printed in the Match Programme.