USFC: Bradley too hot for Donegal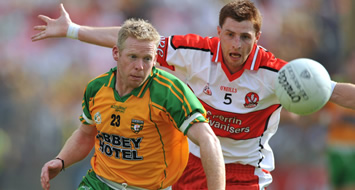 Ulster SFC Quarter-Final:
Donegal 1-12 Derry 1-14
Paddy Bradley showed just why he is rated as the best full forward in the game with a devastating display of finishing at Ballybofey.
His 10 points tally downed Donegal in a gripping Ulster SFC first round tie in the glorious Tir Chonaill sunshine.
But it wasn't until the second half that Paddy Crozier's NFL champions got into their stride, after shooting 11 wides in the opening period.
Derry took a three points lead when Eoin Bradley got in for a 12th minute goal.
Joe Diver's searching delivery was misjudged by Eamon McGee, and the Glenullin man got in behind to take, swivel and shoot low to the net in one movement.
But the Oak Leafers failed to build on that early advantage, squandering a host of opportunities, and shooting a woeful tally of 11 wides in the first half alone.
Donegal gradually began to get on top in the middle third, chiefly through the utilisation of wing forward Rory Kavanagh as an effective ball-winner.
And the high ball ploy worked a treat, with Allstar full-back Kevin McCloy struggling against the rangy Colm McFadden and Michael Murphy.
David Walsh was an important creative influence on the right flank, setting up scores for McFadden and Kavanagh.
And in the 30th minute, Niall McCusker's foul on Christy Toye won a penalty for Donegal, which teenager Murphy expertly smacked home.
Tir Chonaill led by 1-7 to 1-4 at the break, but a rejuvenated Derry side started to chip away at the deficit with a more direct style after the break.
Paddy Bradley, target man and finisher supreme, punished virtually every defensive lapse, and the Donegal challenge began to wilt.
They kept in touch with superb scores from McFadden and Murphy, but the gap was closing all the time, and when Bradley put the Oaks back in front for the first time since the 19th minute with 10 to play, their supporters were in fine voice.
The Allstar full forward nailed on a couple of late frees to tighten Derry's grip, and with time running out, Donegal needed a goal to escape.
McFadden floated a dangerous free into the danger area but Enda Muldoon rose high to field and send Paddy Crozier's side into the semi-finals.
Donegal: P Durcan, K Lacey, N McGee, E McGee, F McGlynn, B Monaghan (0-1), B Dunnion, K Cassidy (0-1), N Gallagher, C Toye, M Hegarty, R Kavanagh (0-2), M Murphy (1-1, 1-0 pen), C McFadden (0-6, 3 frees), D Walsh (0-1).
Subs: B Roper for Hegarty, K Rafferty for Toye
Derry: J Deighan, K McGuckin, K McCloy, F McEldowney, G O'Kane, N McCusker, M McIver, F Doherty, J Diver, M Lynch, P Murphy, E Muldoon (0-1), C Gilligan (0-2, 2 frees), P Bradley (0-10, 7 frees), E Bradley (1-1).
Subs: P Carton for McIver, J Conway for Murphy, C Devlin for Lynch
Referee: M Duffy (Sligo).
Wides: Donegal 7, Derry 14
Yellow cards:
Donegal: R Kavanagh, K Lacey, E McGee, B Monaghan, N McGee
Derry: C Gilligan, K McGuckin, G O'Kane, N McCusker, F McEldowney, J Diver, K McCloy
Red cards: None
Attendance: 17,237
Related:
Out and About with the 'FUN to Fame Mascot' at Mac Cumhaill Park