USHC: Antrim & Down into Final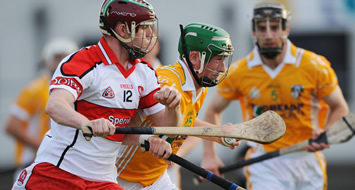 Ulster SHC Semi-Final:
Antrim 2-17 Derry 1-12
Although reduced to 14-men after just nine minutes, a resourceful Antrim side staged a strong second half display to ensure an eight point win and a place against Down in the Ulster SHC Final, thanks to this semi-final win at Casement Park, Belfast.
On a perfect evening for hurling, and before a large attendance it seemed that Antrim's intent on booking a final place, was evident from the start, with Liam Watson converting a free after just 36 seconds.
However Antrim soon found themselves a man down as Liam Watson went for an early shower after two successive yellow cards.
Derry took full advantage of this and quickly built up a seven point lead, but remarkably the gap was cut to two points by the interval.
Despite this, Derry just about managed to hold their heads above water and led by 1-12 to 2-7, nine minutes into the second half.
But this was as good as it got for the Oak Leafers, who remarkably failed to score for the remainder of the contest, as Antrim gave a point scoring exhibition and firmly sealed a final spot.
Mindful of Antrim's numerical disadvantage, Brian McGilligan's charges made full use of the extra man and led by 1-6 to 0-2 at the end of the first quarter, with Gavin Kelly taking the Oak Leafers goal in the 17th minute.
Derry free-taker Ruairi Convery had mixed results in the opening 35 minutes, but the full-forward contributed five valuable points as his side had their lead whittled down to just two points by the interval on a 1-8 to 1-6 scoreline.
Antrim staged a strong comeback in the closing 12 minutes of the half, and also took full benefit of the six minutes of injury-time played by Down referee Declan Magee, thanks to a Paddy Richmond goal and points from Richmond; substitute Eddie McCloskey and Paul Shields, Derry's led was reduced to a brace of scores.
Derry only hung on by a thread in the second half as a more determined Antrim side had no problems reducing the visitors lead.
A second goal from Paddy Richmond, four minutes into the second half brought the sides level for only the second time in the contest, but Derry still held the edge as Ruairi Convery continued to convert with ease from dead ball situations to see his side hold a 1-12 to 2-7 lead, by the 44th minute.
However incredibly Derry would fail to score over the remainder of the contest, as the switch on of the floodlights ignited a spark in Antrim's play, and Convery's accuracy in front of the posts began to slip at a dramatic rate.
A Karl McKeegan pointed 65′ kickstarted a dominant spell for the Saffrons, and with PJ O'Connell and Richmond adding points, along with two each from Shiels and McCloskey, Antrim led by five points with as many minutes remaining.
Antrim failed to ease up and with Richmond scoring his third point, to bring his tally to 2-3; and McCloskey sending over a fourth point, their side firmly booked a final spot against Down.
ANTRIM: R McGarry; A Graffin, J McKeague, S Delargy; C Herron, K McKeegan (0-1, 1 65), J Campbell; K Stewart (0-2), M Magill; P Richmond (2-3), L Watson (0-1, 1F), P Shiels (0-4, 3f); M Herron, C Donnelly, D McNaughton. Subs: E McCloskey (0-4)for Magill (inj) (5); S McCrory (0-1) for Donnelly (HT); PJ O'Connell (0-1) for McNaughton (54)
DERRY: A Magill; M Craig, C Quinn, C McQuillan; R McCloskey, S Henry, S McCullagh; D Brunton, O McCloskey; P Henry, K Hinphey (0-1), SL McGoldrick; P McCloskey (0-2), R Convery (0-8, 7f, 1 65), G Kelly (1-1). Subs: C McKenna for McQuillan (28); M Kirkpatrick for D Brunton (29); S Dodds for P Henry (53); C Brunton for Craig (70)
REFEREE: Declan Magee (Down)
Frees: Antrim 13 (7,6) Derry 17 (10,7)
Wides: Antrim 13 (5,8) Derry 10 (6,4)
65's: Antrim 1 (0,1) Derry 2 (0,2)
Yellow Cards: Antrim 2 (2,0) Derry 2 (2,0)
Red Cards: Antrim 1 (1,0) Derry 0 (0,0)
Attendance: 1,200 (Approx)
—
Ulster SHC Semi-Final:
Down 4-16 London 1-16
A brace of second half goals from Paul Braniff and a Brendan McGourty strike ensured Down advanced to the Ulster Senior Hurling Championship Final, thanks to a three goal win over London at Casement Park.
Jim McKernan's side registered a strong second-half performance to ensure the nine-point victory that sends them into another final.
Down got off to the perfect start when a composed Gareth Johnston poked a Simon Wilson free to the back of the London net after just a minute of action.
But London showed tremendous spirit throughout this game and quickly cut the deficit to a point thanks to scores from Kevin McMullen and Martin Finn on the full-forward line.
The game ebbed and flowed as both teams equally shared possession and even though right half-forward Paul Braniff was on target with a crucial score, to give his side a 1-1 to 0-2 lead after five minutes, The Exiles weren't keen on playing second fiddle.
A well-drilled 21 metre free from full-forward Finn ensured his side took the lead for the first time in the ninth minute, and the Cork native was lethal throughout the 70 minutes for Mick O'Dea's charges.
But with four of the next five points, Down held a 1-5 to 1-3 lead at the end of the opening quarter with Wilson, Andy Savage, Brendan McGourty and Johnston all converting scores.
London edged back with points from Conor O'Halloran and Chris McDonnell but Down were in superb form and despite failing to take a second goal in the first half, after London keeper Gary McCollum pulled off a fine save from a Branniff shot, they were still deserving of a 1-9 to 1-6 interval lead.
It didn't get any easier in the second half for the Exiles with McGourty taking their second goal a minute after the restart.
London battled hard, but still had a mountain to climb with the deficit at four points after Finn sent over his third score of the hour in the 43rd minute.
A brace of goals from Branniff in the 49th and 69th minutes firmly cemented the win, despite the efforts of Finn, who finished as the Exiles top-scorer with 1-9.
Down: G Clarke; L Clarke, S Murray, F Conway; S Wilson (0-2, 2 65), K Courtney, G Clarke; A Savage (0-1), R McGrattan; P Braniff (2-4, 1f), B McGourty (1-3), E Trainor (0-1); E Clarke (0-1), G Johnson (1-2), S Clarke. Subs: B Ennis (0-2) for S Clarke (46); P Hughes for Wilson (58)
London: G McCollum; B Mulcahy, S McLoughlin, T Simms; T Abernethy, N Healy, E Phelan; F McMahon (0-1), C O'Halloran (0-2); J McCarthy (0-2), S Quinn, M Mythen; K McMullen (0-1), M Finn (1-9, 1-8f), C McDonnell (0-1). Subs: M Traynor for McDonnell (41); S Malone for McCarthy (53)
Referee: Brendan Sweeney (Cavan)
Frees: Down 10 (7,3) London 18 (8,10)
Wides: Down 15 (9,6) London 8 (4,4)
65's: Down 2 (2,0) London 0 (0,0)
Yellow Cards: Down 2 (1,1) London 2 (2,0)
Red Cards: Down 0 (0,0) London 0 (0,0)
Attendance: 400 (approx)