Christy Ring Cup Round-up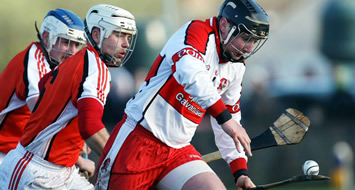 Wicklow and Down both enjoyed easy wins in Saturday's Christy Ring Cup action, while Derry escaped with the points from a thriller against Armagh at Celtic Park.
Christy Ring Cup Round 2 Group 2D:
Derry 4-14 Armagh 5-6
It was a game of two contrasting halves at Celtic Park as Derry escaped with a lucky win on Saturday.
Derry were in the lead by seven points at the break, 2-8 to 2-1, but nearly blew it in the second half.
Ruairi Convery scored 1-5 for for the home side in the opening exchanges, while Sam Dodds edged them even further ahead with another major.
However, five goals in an amazing five minute spell from John Corvan (2), Fiachra Quinn, Cathal Carville and Gerard Enright edged Armagh ahead.
But the Oak Leafers hit back with goals from Mark Craig and Paddy Henry to secure a remarkable win.
Christy Ring Cup Round 2 Group 2B:
London 2-8 Down 1-25
Down made no mistake to set up a crucial tie against Carlow by easily disposing of London in Ruislip.
The Exiles actually trailed merely by 0-11 to 1-6 at the break, but this was somewhat misleading: they had benefitted from a strong breeze.
Mark Mythen and Ian Walsh scored the goals for London, who lost to Carlow in their opening encounter.
Christy Ring Cup Round 2 Group 2C:
Mayo 0-18 Kerry 0-15
Mayo edged Kerry by three points at Castlebar in a tense encounter that served two halves that were no relation of the other.
Kerry, playing their opening game, led by three at the interval but were subservient in the second half. Adrian Freeman chipped in with a brilliant nine-point tally for the home side, his contribution from placed balls the difference between the sides in the end.
Given that Mayo lost their first game against Meath, all three sides could yet finish level on points. Meath play Kerry in the final group match.
Christy Ring Cup Round 2 Group 2A:
Roscommon 0-12 Wicklow 3-21
Wicklow ended Roscommon's Christy Ring Cup hopes, winning their opening game by a big margin in Athleague.
The Rossies had lost heavily in their first game in Westmeath so either the Lake County or the Garden County will win the group.
Wicklow were 1-10 to 0-5 in front at the break, Timmy Collins scoring the goal, and showed little mercy in the second half.