2007 McNamee Awards Announced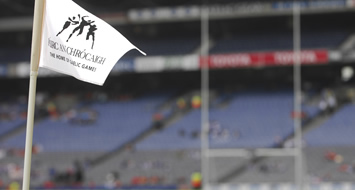 The winners of the 2007 Mc Namee Awards have been confirmed by the GAA. The Awards will be presented at a function in Croke Park on August 10th. This year's winners are:
Best Local Radio Programme
RADIO KERRY'S EXTENDED SUNDAY SPORTS ALL-IRELAND FINAL DAY PROGRAMME
The programme is composed of short interviews with a number of Kerry players and excels by virtue of the fact that the interviewers not only ask relevant questions but allow each player to answer fully without any interruptions.
The non-Kerry native will find plenty of interest in the entire presentation, which brings to the fore intriguing sidelights such as how much it meant to Kerry to beat keen rivals Cork in an All-Ireland final.
The recording ends with the Kerry homecoming in Terrace Talk, and all round is an excellent production reflecting radio coverage of a sporting occasion at its best, and very well put together by Sports Editor Joe O'Mahony.
Best Website
St. Vincent's GAA Club www.stvincentsgaa.ie
The site has an extremely attractive, well designed Home Page, in the club colours. It provides an RSS feed of site updates and info to members; it has a 'printer friendly' feature, something that is often overlooked in web sites; it has a good search facility and a facility to email information from the site to a friend and it makes good use of photos and video inserts. In addition, the site marshals a huge volume of news and club information in a way that is very easy to navigate. A truly remarkable web site.
Best Club Media Production
"Ní neart go cur le chéile- The History of St. Laurence's GAA club, co Kildare 1957-2007 by Daragh Ó Conchúir
All aspects of the club are considered. The history of the club and its progress, or setbacks through the decades are chronicled well and always maintain the interest. The author, Daragh Ó Conchúir avoids the rather boring tactic of merely copying local newspaper sports reports. Instead we are treated to interview quotes and comment pieces from the media of the day, primary historical sources if you will.
Best County Final Programme – Down Football Final
This is an excellent production with high quality colour photographs and edited by County PRO, Diarmuid Cahill. It has a very clear layout with a number of interesting articles. Truly a worthy souvenir of County Final and opening of newly developed Páirc Esler. A programme to keep.
Best County Yearbook – Donegal
There was an exceptionally high standard in all the entries, but Donegal shaded it for the breath of their coverage, for the amount allocated to clubs, for the standard of the articles and for the imagination of the graphics. The photography was also top class. It was obvious that the editorial team, headed by County PRO, Seamus Ó Domhnaill, had decided to put in extra work to produce a well researched, comprehensive publication.
Provincial Media Award – Sligo Champion
Their celebration of Sligo's Connacht Championship success in 2007 captures the excitement, the delight, the colour and the drama of a unique occasion. Sligo's Super Sunday (July 8th), as dubbed by the Sligo Champion, shows what a provincial title means not just to the players and management team but more significantly to the public at large.
National Media Award – Michael Foley, The Sunday Times
His profile of and interview with Kerry's Colm Cooper lyrically captures all the highs and the few lows, both sporting and personal, that have made The Gooch one of the best known and most popular sportsmen in Ireland and provides a unique insight into the personality of the player.
Hall of Fame Award – Martán Ó Ciardha
The Hall of Fame Award is presented to an individual who has made an outstanding contribution to communications in the GAA over along number of years. Mártan Ó Ciardha has worked for RTÉ Raidió na Gaeltachta for the past 30 years and has been Sports Editor for most of that period. As well as co-ordinating the station's sports output, he regularly broadcasts from national, provincial and local GAA matches and has covered every senior All Ireland Final in football and in hurling from the mid 70's. He is a member of the Steering Committee of the Vodafone All Stars and writes a column in the weekly newspaper Foinse. Reared in na hAille in Cois Fharraige, he lives in Baile an Domhnalláin, an Spidéal with his wife Toni and children Caoimhe, Róisín and Pádraic.