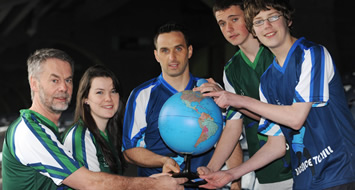 Cavan's Paul Brady will lead Ireland in to this year's World Championships in Portland, Oregon following his 21-16, 21-11 victory over Dublin's Eoin Kennedy in the Envirogreen Irish Nationals at Kingscourt yesterday (Sunday).
Brady sealed his place on the Irish team in dramatic fashion and, despite a shaky start, showed some clinical finishing and top commitment in the second game to collect the Men's Open crown.
Brady and Kennedy met in the All-Ireland Senior Singles Final two weeks ago, with Brady in devastating form winning 21-10, 21-4. Many expected yesterday's meeting to be a similar exchange but the Dubliner opened the game with intent and went 6-1 up in the first game, looking hungry to cause an upset. But Brady stuck to his task and fired home to victory after two competitive games.
"I'm delighted with the win," said dual-star, Brady, who is also a member of the Cavan senior football panel.
"It was always going to be tough against Eoin and I'm just relieved to have come through it, and looking forward to Portland now."
Brady, the current world number one, now moves a step closer to the retaining his World title following victories in 2003 and 2006.
Also bidding to retain her World title in Portland next October, Antrim's Fiona Shannon defeated fellow Saffron, Aisling Reilly, on a 21-5, 21-11 scoreline in the Ladies Open Final to seal her place on the Irish team. Ten players booked their places on the Irish squad this weekend, including Kilkenny legend Michael 'Ducksy' Walsh who defeated Meath's Tom Sheridan to take the Masters spot of the squad.
The Open Doubles trials for the Ireland World Championship Doubles pairings take place next weekend, with draws to be announced during the week.
TEAM TO REPRESENT IRELAND AT THE WORLD CHAMPIONSHIPS IN PORTLAND, OREGON IN OCTOBER:
Michael 'Ducksy' Walsh (Kilkenny) – Masters
Kevin Geraghty (Mayo) – Golden Masters
Lauren O'Riordan (Roscommon) – 15 and Under Girls
Padraig McKenna (Monaghan) – 15 and Under Boys
Catriona Casey (Cork) – 17 and Under Girls
Jamie Lynch (Clare) – 17 and Under Boys
Shauna Hilley (Wicklow) – 19 and Under Girls
Diarmaid Nash (Clare) – 19 and Under Boys
Fiona Shannon (Antrim) – Open Women
Paul Brady (Cavan) – Open Men