Ulster Sweep in Vocational Schools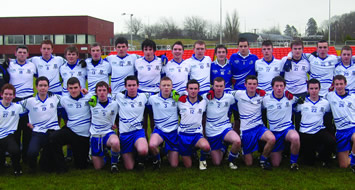 For the first time Ulster Vocational Schools won all available football titles at All Ireland level.
In the Inter County Monaghan had a narrow win against Donegal in the Ulster Bank final in Mc Girr Park, Drumquin (2-9) to (1-10) and then proceeded to defeat Cork in Cashel (1-11) to (0-11). The final against Galway was a more clear cut affair when Monaghan recorded their second ever Inter County title against Galway ((0-10) to (0-3). The Paul Mc Girr trophy returned to Ulster for the second time since its presentation three years ago. Managed by Paddy Kerr and assisted by Hugo Clerkin and Shane Donohoe, Monaghan set a very clear work schedule early in September and this was rewarded with success at Ulster and National level
St. Paul's, Kilrea won their first ever Ulster title when they defeated St. Ciaran's Ballygawley in the Ulster Bank Arthurs Cup (U16) final in Casement Park (3-10) to (2-5). The preceding semi final against St. Malachy's, Castlewellan went to extra time and was an excellent preparation for the final. This success is outstanding considering that St. Paul's have a mixed enrolment of only 307. They defeated Clonakilty C.C. in the All Ireland Semi final in Tullamore (2-14) to (2-5) and then took the All Ireland U16 title against Dunshaughlin C.C. in Clones (2-16) to (2-4). Nothing was left to chance in the team's preparation and the players and mentors Mickey Boyle, Paddy Mc Gurk and Stephen Murtagh deserved success equally.
St. Malachy's, Castlewellan continued on their winning ways in Ulster with the Ulster Bank Markey title against Castleblaney College in O'Neill Park, Dungannon (2-11) to (2-8). In the All Ireland U18 C'ship they had a clear-cut semi win over Clonakilty C. C. in Portlaois (5-11) to (1-6) and had the same venue for the final against Ashbourne C.C. This final, televised by T na G, followed the Hogan Cup final and St. Malachy's achieved the final leg of a first ever Ulster Vocational Schools football clean sweep winning (0-15) to (0-5). P.J.Mc Gee and his mentors can be justly proud of their school's achievement (second successive title at this level) and quality of player has been recognised with two of his team, Paul Devlin and Conor Poland playing leading roles in Down's U21 success.
Only these three football competitions continue to All Ireland level and all three winning Ulster teams would testify that they experienced their hardest games in Ulster. The other major football competition, the Ulster Bank Mc Devitt Cup (U14) was won by St. Malachy's, Castlewellan against Holy Trinity College, Cookstown in a breathtaking final in Casement Park (3-8) to (1-13)