Feile Peil na nOg headed for Derry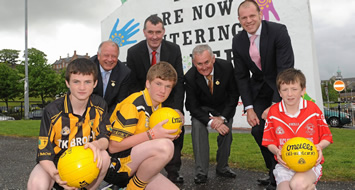 The 29th Coca-Cola GAA Feile Peil na nOg finals will take place in County Derry this year from Friday 2nd through to Sunday 4th July. The organising committee are expecting approx 15,000 people to come to Derry city on Friday night to witness the parade of all the players, mentors and club colours and banners that traditionally marks the opening of this prestigious event.
The event will see 160 under 14 football teams take part, including numerous visiting teams, along with their mentors, parents and family members who will visit the county, and stay at one of the 38 football clubs in Derry, or host clubs from neighbouring counties. A record seventeen ladies football teams from Derry will also host and participate in this year's event, evidence of the Feile fever that has gripped the county.
At the launch of this inaugural Féile Peil na nÓg to be held in the Oak Leaf county, organising Chairman Patsy Mullan told attendees in the Guildhall, how much it means to him and fellow Gaels from Derry. "We are delighted to be hosting Féile Peil na nÓg in our county for the first time, it is a huge celebration of the contribution of our youth and is a festival we hope everyone will join in," he said. "Everyone is invited to attend and enjoy the parade and sporting events which will take place over the weekend".
Preparations are continuing at host venues throughout the county, including Derry City where the parade will leave Celtic Park on Friday evening at 7pm and make its way to Guildhall Square, finishing at Magee University grounds. Mullan adds "It is great to see the anticipation sweeping across the city and throughout all the clubs."
Each year approx 30,000 boys and girls – under 14 years of age – from each of the 32 counties, the UK, Europe and USA participate in Féile. Coca-Cola has supported the Féile Péil na nÓg finals since 1993 and also sponsors the Coca-Cola GAA Féile na nGael competitions, which celebrated it's 40th anniversary this year in Clare. Erica Roseingrave, Public Affairs and Communications Manager of Coca-Cola said:
"Coca-Cola is proud of its association with the Féile Peil na nÓg finals, and it's sister competition, the Coca-Cola GAA Féile na nGael finals. In addition to encouraging a healthy and active lifestyle, every year we are treated to matches of great drama played in a fantastic spirit, with unrivalled hospitality provided by the host Clubs and County. The competitions continue to play an important role every year within the community, and following on from the success of the Feile na nGael finals in Clare, we are eagerly looking forward to this weekend's finals in Derry".
The Féile Peil na nÓg first started in Cavan in 1982, when 40 teams participated, and has grown immensely to the stage where Derry GAA will play host to 160 teams this year.
ClubDerry and Derry County Board have also thrown their weight behind this historic event. Cathaoirleach Coiste Chontae Dhoire John Keenan echoed the delight his committee possessed in "Hosting Féile this year and the opportunity it gave all the clubs in Derry to participate in this famous festival of fun and friendship". He stated "The parade and colour of almost 5000 boys and girls through the streets of Derry, coupled with the multitude of games at numerous venues across the county, can only enhance and reward our existing coaching and development strategies currently in place".
During the build up to the Féile weekend, the county hosted a week of Primary School visits as part of the official launch, with Uachtarán Cumann Luthchleas Gael Criostar O'Cuana and Uachtarán Cumann Peil Gael Na mBan Pat Quill visiting all the primary school children and their teachers.
During his visit Uachtarán O'Cuana said he expected Feile Dhoire 2010 to be a fantastic success following the preparations and anticipation he had witnessed during his trip to the county in May.
"I was delighted to have the opportunity to meet so many of the young Primary School children around the county, to see them all in the GAA colours never fails to fill me with pride. There is so much good work being done here in Derry and I send my appreciation to the teachers, coaches, and all the volunteers who work so hard for our association in the county.
Feile commences on Friday July 2nd when all host clubs will play their first game against their visiting team, before emerging on Derry City for the parade on Friday evening. Saturday again witnesses all teams playing two more fixtures in qualifying group games before semi finals take place on Saturday evening. Sunday is finals day, with finals taking place in Foreglen and Celtic Park.
Boys and girls from St Canice's Primary School in Dungiven extend a 'Cead Mile Failte' to all of the competing counties to the 2010 Football Feile in Derry in July:
[youtube]http://www.youtube.com/watch?v=V3NxmLH2fH8[/youtube]
A superb evening of entertainment included dancing, singing, the player's prayer, special guests such as Anthony Tohill and Martin McGuinness, and an inspirational speech by the GAA President to officially launch Feile:
[youtube]http://www.youtube.com/watch?v=Sn0lPmv_A3U[/youtube]