2011 Club Officer Training receiving record attendance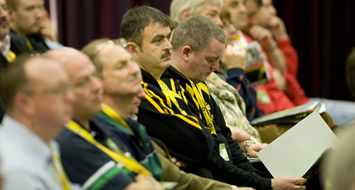 Ulster GAA are on the road again with the Club Maith: Club Officer Training Programme.  The training is designed to compliment last year's sessions which focused on the roles and responsibilities of the various club officer roles.  To keep the training fresh and interesting for club officers – new and experienced – the 2011 training program focuses on four key workshop areas including: Club Development Plans, Raising Funds in 2011, Child Protection and Applying for Club Maith.
Three counties have completed their training session in January – Tyrone, Monaghan and Down – with average attendances breaking the 100 people mark!  These high attendances proves the worth of this training programme, which should be the one-stop-training programme for Club Officers for the entire year.
Certificates are handed out on the day of training and County Boards are making an important contribution to these events by providing the venue and lunch completely free of charge.
In February there are three further training sessions planned for:
Saturday 5th February – Donegal Club Officers in Deele College, Raphoe
Saturday 12th February – Cavan Club Officers in St Patrick's College, Cavan
Saturday 19th February – Fermanagh Club Officers in St Michael's School in Enniskillen
Anyone wishing to attend any of these sessions should email Sharon.haughey.ulster@gaa.ie