McCloskey to address Conference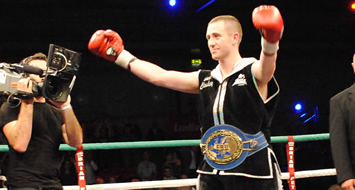 The annual Ulster GAA Coaching Conference has always 'stepped out of the ring' to bring personalities from outside Gaelic Games to share their experiences and to show the similarities between their sports.  Past guests have included ex-Irish Basketball Manager, Danny Fulton who spoke about the skill sets and tactical ploys that were relevant between the two sports; Sarah Keane, Chief Executive Swim Ireland, gave an insight into modernisation of the governing body and child protection within sport; and John Lonergan, ex-Governor of Mountjoy Prison was passionate in his philosophy that change, personal or otherwise, cannot be enforced on people, believing that real and meaningful change comes about through consent and agreement.
Special guest, Paul McCloskey will address the assembled coaches at Ulster GAA's annual Coaching Conference, The Final Piece: Completing the 'jigsaw'… without wrecking it!
Paul is current EBU European light welterweight Boxing Champion, a title that he won when he defeated Spain's Daniel Rassila back in November 2009.  Paul has successfully defended his title twice and is keen to secure a World Title bout against England's Amir Khan.  The talented 31 year old from Dungiven has played gaelic football and hurling for his local club teams St. Canice's and Kevin Lynch's.  Paul will discuss his experiences in the transition from gaelic games to boxing and from competing in the amateur game to becoming a professional and competing on the European and World stages.  McCloskey can boast a professional career of 22 professional fights and an undefeated record including 12 wins by way of knock out.
Paul will give a short talk on his sporting experiences followed by an interview with former Derry All Star and All Ireland winning footballer, Tony Scullion.
The Conference, with a theme of coaching the adult player, will bring coaches from throughout Ireland to the Glenavon Hotel, Cookstown on Saturday 29th January 2011.  Up to 400 coaches from gaelic football, hurling and camogie will attend this annual event, which is not short on quality speakers who will deliver workshops on the many issues facing the adult coach in today's world.
Workshops will include topics such as:
Profiling Players, Fitness Assessment, Coach Ability (Roger Keenan)
Strategy, Structures & Systems – Moving in the right Direction (Paddy Tally)
Managing Alcohol in the Club Team – The hidden Challenge for the Coach (John Leahy)
Turning On or Turning Off – Challenges Coaching Adult Teams (Frank Dawson)
Places are still available and application forms can be downloaded from the Ulster GAA website www.ulster.gaa.ie or by calling (028) 3752 1900.
Photo courtesy of www.paulmccloskey.com