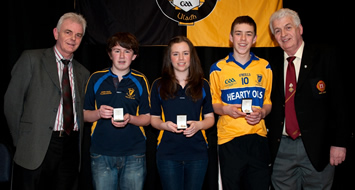 Silverbridge GFC hosted the Scór na nÓg Ulster Final on Saturday 22nd January 2011 and what a day it was for the young men and women of our Association, who represented their clubs with great respect and dignity.
It was a fun-filled day with outstanding talent on show from the young people of Ulster Clubs.   Everyone who took part must commend for their hard work and efforts.   But there could only be one winner in each category, which were:
2011 Scór na nÓg Ulster Final Winners:
Rince Foirne (Céilí Dancing) – Naomh Éanna, an Omaigh (Tír Eoghain)
Amhránaíocht Aonair (Solo Singing) – Sarah McVeigh, Naomh Pádraig Saul (An Dún)
Ceol Uirlise (Instrumental Music) – Eadan an dTorc (Tír Eoghain)
Aithriseoireacht (Recitation) – Caitlín Ní Chaothmhaoil, N. Éanna an Omaigh (Tír Eoghain)
Bailéad Ghrúpa (Ballad Group) – Naomh Pádraig, Saul (An Dún)
Nuachleas (Novelty Act) – Gleann t-Súilí (Dún na nGall)
Rince Seit (Set Dancing) – Crois ar Loch (An Cabhán)
Tráth na gCeist (Quiz) – Béal Atha an Airgid (Ard Mhacha)
Good luck to all the winners who will represent Ulster in the All Ireland Finals in Castlebar, Co. Mayo on Saturday 19th February 2011.  Ádh mór orthu uilig.