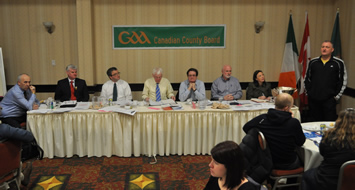 The Gaelic Athletic Association's Canadian County Board's Annual Convention was well attended with riveting debate on Sunday 20th February  in Ajax, Ontario.
In five provinces of Canada there are 11 cities with 16 affiliated GAA clubs.
Special guests were Uachtarán Chomhairle Uladh C.L.G. Aogán Ó Fearghail and Rúnaí Chomhairle Uladh C.L.G. Donall Ó Murchu who both gave encouraging and informative addresses to the attendees.
From clubs submitting motions to the County Convention, for the second year in a row, the debate about the number of sanctioned players drew the most attention.
A motion by St. Pat's Canadians to change Bye Law #17 that states a maximum of seven sanctioned players with any club be increased to 10 was withdrawn after vigorous debate.
A motion from the Durham Robert Emmets stating that the following be added to Bye Law #17 that "A club fielding a second team or junior team would be allowed to register 3 additional sanctioned players"
passed with the required two/thirds majority after equally challenging debate.
Four other motions concerning affiliation, fees, letters of permission and channels of communication were submitted by the County Board to the Convention. Three were passed and one was withdrawn for further counsel.
Chairman Brian Farmer (Durham Robert Emmets) is in the second year of serving a three year term. Donall Ó Murchu conducted the election of officers where Vice-Chairman Jarlath Connaughton (Ottawa – Gaels) , Treasurer Eddie Mangan  (Durham Robert Emmets), Secretary John O'Flynn  (Vancouver – ISSC) , and Development Officer Lorraine Morley  (Toronto-Michael Cusacks Ladies GFC)  were re-elected to one year terms.