19th MacRory Title for St Colmans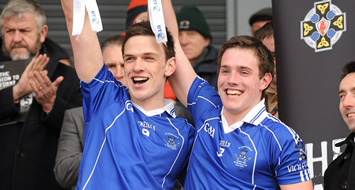 BT MacRory Cup Final
St Colman's Newry 2-9 St Patrick's, Dungannon 2-8
The 2011 BT MacRory final will be remembered for 2 superb goals from Australia-bound Caolan Mooney, as well as some excellent team play from both sides.
Mooney illustrated the huge loss he will be to Down and to football in general when he departs for Collingwood in the summer with 2-2 from play, his goals coming at pivotal points in this superb contest.
The Academy had opened brightly and led 0-4 to 0-1 at the end of the first quarter. St Colman's needed to get a grip of the game.
Jerome Johnstone played Mooney in on the left wing. A fisted point was an option, but the Rostrevor clubman wanted a goal and he stepped inside to drill it to the top corner of the net.
At the same point of the second half and in similar circumstances – the Academy picking off 3 good points in the third quarter – Mooney struck for his second.
This time Johnstone played the ball in to team captain Conor Gough who laid it off to Mooney coming down the centre at full-pace.
He burst through the tackle and was one-on-one with Mark McReynolds. This time he fired the shot across the goalie at a lower trajectory and into the corner of the net.
Modestly Mooney talked about the team and panel contribution at the final whistle.
"There are 38 in our panel, including the 4 teachers. We are all in it together. Everyone is leader, everyone is expected to step up to the mark."
"I loved playing in the game – I got an injury shortly after the second goal, but still enjoyed it as a game, as an occasion."
This was the fourth time that St Colman's have collected back to back titles and the aim now is back-to-back Hogans.
"The school has never done back to back Hogans. We will train on Saturday morning, on the pitch for 9.30am. There is more work to be done."
Despite Mooney's immense personal contribution, the Iggy Jones Player of the Match went to Niall Donnelly at full-back, a player who might well have been in defence for the Down under 21s the previous evening.
Conor Gough was also a rock at midfield, while Shay McArdle and Jack Haughey contributed well in the second half.
Coach Cathal Murray talked about a range of emotions during and after the match.
"You're kicking every ball with them, throwing your hands in frustration at every foul. But this is a special bunch of players. You saw that in the maturity of them in holding on to the ball in the last 60 odd seconds."
"They dug deep and you cannot coach some of the things they gave today. They are mentally strong and the injury time win here in the semi-final helped us."
The Academy though contributed immensely to an entertaining game for the neutral – if there were any in the crowd of almost 5,000.
The Academy shaded the first half, a great goal from Harry óg Conlon a 20th minute response to Mooney's pile-driver.
But they were also unlucky with goal chances shunned by Lavery and Gervin, while the latter, played in by Morgan and Lavery after just 8 minutes, crashed the ball off the inside of the post and back into Niall Donnelly's arms.
Sean Quinn, Mooney's marker, worked very hard and even got up to take a delightful point after the break, immediately after similarly brilliant scores from Liam Girvan and Ryan Devlin.
But Mooney's second goal put St Colman's in control. 15-year-old Jack Haughey pointed after a good run and the gap moved to 4 as sub Patrick Morgan punched over in the 52nd minute.
The Academy brought in Aidan McGarrity as part of a double-substitution in the 50th minute and Rock clubman did well to side-step two players and crash home a 58th minute goal, following good approach work by Harry óg Conlon.
Shay McArdle though won an important turnover in the next minute, played a one-two with Jack Haughey and eased Newry nerves with a point.
Although Girvan added a free as the game went into injury time, the 19th title was safe for St Colman's
St Colman's : Matthew McNeice, Micheal O'Hare, Niall Donnelly, Ruairi Lively, Darryl Brannagan, Eamon Magee, Keelan Haughey, Ryan Johnston, Conor Gough, J Haughey (0-1), Pearse Casey, Caolan Mooney (2-2), Shay McArdle (0-1), Jerome Johnston (0-4, 0-2 frees), Tony McGreevy.
Subs : Patrick Morgan (0-1) for M O'Hare (ht),
St Patrick's : Mark Mc Reynolds, Jason Carberry, Sean Molloy, Mark McAleer, Eunan Deeney, Shea McGarrity capt., Sean Quinn (0-1), Colm Mc Fall, Philip Barker, Dwayne Quinn (0-1), Kiefer Morgan (0-1), Harry Óg Conlan (1-0), Stefan Lavery, Ryan Devlin (0-1), Liam Gervin (0-4, 0-1 free).
Subs : Colm Corrigan for M McAleer (50), Aidan McGarrity (1-0) for P Barker (50), Conor Mallon for K Morgan (59).
Referee : Barry Cassidy (Derry).