2011 GAA Handball Irish 40×20 Nationals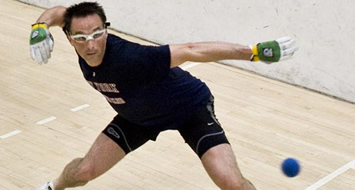 The 2011 GAA Handball Irish 40×20 Nationals, sponsored by Ladbrokes, will take place in Wexford Venues over the course of the May Bank Holiday weekend Friday 29th April – Sunday 1st May 2011.
Exact venues for games will be confirmed following receipt of all entries with the main events and finals scheduled for the fantastic new 3-court complex in St. Joseph's, Wexford.
There will be a total of 19 grades of competition in the 2011 Nationals and, if they are required and depending on numbers, there will be a qualifiers weekend on Saturday 23rd and Sunday 24th April.
Once again the winner of the Mens and Ladies Open Singles events at the 2011 Irish Adult Nationals will represent Ireland at the US Nationals in Minessota in June, won 12 months ago by Paul Brady (Cavan, pictured) and Aisling Reilly (Antrim).
Entry fees for the event are just €20/£18stg while any player who enters the event can also purchase a unique Irish Nationals Jersey at €25. Again it would be advisable to place your order for your jersey with your entry as this is the only guarantee of being able to receive the jersey.
ENTRY DEADLINE: DEADLINE DATE is FRIDAY 8th APRIL 2011
For more details log onto: www.gaahandball.ie