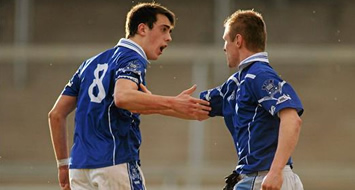 The MacRory Cup final between holders St Colman's Newry and St Patrick's Dungannon will be played at the Armagh Athletic Grounds on St Patrick's Day.
—
BT MacRory Cup Semi Final:
St Colman's Newry 2-11 St Mary's Magherafelt 1-11
Holders St Colman's Newry are through to the BT MacRory Cup final next month, thanks to an injury time goal from midfielder Ryan Johnston in the Athletic Grounds on Saturday.
However many of the plaudits coming out of this excellent game of football will go to losers St Mary's Magherafelt who fought back from a 7 points' deficit after 18 minutes.  They also lost corner-back Paul O'Kane to a red card in the 45th minute for what looked like an exchange with an umpire just after they had pulled the game level at 1-8 each.
The Magherafelt goal will be talked about for some time.  Defender Niall Higgins had moved into the half-forward line for the second half and he bore down on goal in the 42nd minute.  He off-loaded to Anton McElhone, but the sub went down.  He managed to get a handpass out that Higgins caught on the volley and belted to the roof of Matthew McNeice's net.
That was the levelling score and, with wind advantage and the momentum of 3 scores in a row, it looked as if the Derry side could kick on.
But the red card forced Higgins' withdrawal to defence and left Aaron Devlin very much fighting a lone battle up front.
St Colman's for their part were creating plenty of opportunities but failing to hit the target.
Nevertheless points from Sean Cassidy and a 40 metre free from Conor Kearns were needed to pull the teams level at the end of normal time 1-11 each.
Then in the second of the allocated three extra minutes, a great move up the stand side opened the space for Ryan Johnston in front of goals.  The Kilcoo player had been denied on two earlier occasions by Declan McCann's athleticism, but he saw another opening and fired home from 8 metres.  A fine score to decide an exciting contest.
After the first quarter though, it looked as if the holders were coasting into the final.
Ryan Johnstone pointed a free in the first minute, and his brother Jerome fired home a goal in the third and added 5 points to build up an impressive 1-7 to 0-3 lead, that also included a point from Caolan Mooney.
Their football was quick and skilful and St Mary's Magherafelt were struggling to stay in the game, with pointed frees from Aaron Devlin and Conor Kearns just keeping them above water.
Although St Colman's only scored once during the second quarter, they were still comfortable 1-8 to 0-6 leaders at the break.
Points from Higgins and Kearns on the re-start closed the gap and the crowd was really on their feet after Higgins' goal.
Ultimately though, St Colman's greater experience saw them hold on and deny a tremendous effort from St Mary's.
St Colman's : Matthew McNeice, Colman Doyle, Niall Donnelly, Ruairi Lively, Darryl Brannagan, Eamon Magee, Keelan Haughey, Ryan Johnston 1-1, 0-1 free, Conor Gough, Tomas Mulholland, Pearse Casey, Caolan Mooney 0-3, 0-1 free, Shay McArdle, Jerome Johnston 1-7, 0-5 frees, Tony McGreevy.
Sub : Jack Haughey for T Mulholland (39).
St Mary's Magherafelt : Declan McCann, Martin Breen, Peter Quinn, Paul O'Kane,  Niall Higgins 1-1, Fergal Duffin, Brian Devlin, Connor McCann, Terence O'Brien, Paddy McGuigan, Nathan Rocks, Conor Kearns 0-4 frees, Sean Cassidy 0-1, Aaron Devlin 0-4, 0-3 frees, Conal McErlean.
Subs : Anton McElhone 0-1 for C McErlean (23), Cormac Mitchel for T O'Brien (59).
Referee : Martin Higgins (Fermanagh)
—
BT MacRory Cup Semi Final:
St Patrick's Dungannon 2-9 St Michael's Enniskillen 0-13
Harry Og Conlan and Aidan McGarrity scored the vital goals as St  Patrick's Dungannon got the better of St Michael's Enniskillen in a thrilling MacRory Cup semi-final at Healy Park.
Both goals came in a pulsating second half, and while the Fermanagh lads produced a courageous response to each setback, they were unable to claw back the second strike, which came just three minutes from the end.
Sean Quigley had St Michael's in front from a free, but two Liam Girvan strikes edged the Tyrone side in front by the seventh minute.
With Richard Donnelly helping them shade the midfield battle and Quigley extremely effective as a ball-winning target man, Enniskillen got on top, but a rash of wides robbed them of the opportunity to go in front.
Quigley levelled, but Girvan's third converted free put Dungannon in front at the beginning of the second quarter, but they too displayed their wasteful side.
And the Fermanagh lads went in front for the first time in the 23rd minute, after substitute Mark Blake and the impressive Eddie Courtney both fired over excellent points from play.
Dungannon's first score from play came from wing back Eunan Deeney, who hit the target from an acute angle.
St Patrick's were twice denied a goal by fines saves from Brian McAleer, who kept out Stefan Lavery's shot after he had been sent clear by Harry Og Conlan, and thwarted the same player again three minutes later.
But the Academy did go in at the break with a narrow 0-5 to 0-4 lead, thanks to Colm McFall's stoppage time point.
They went three clear through Girvan and Dwayne Quinn, but Enniskillen hit back with points from Rory Brennan, who had moved from full back to midfield, John Joe Strain and Quigley to go level for the fifth time.
Dungannon responded with a 38th minute goal, Harry Og Conlan applying an exquisite finish after Girvan and Ryan Devlin had combined.
Brennan was making a big impact at midfield, hitting his second point, and two gems from Richard Donnelly narrowed the gap to a point.
Aidan Breen levelled with five minutes to play, but Girvan responded immediately, and Dungannon goalkeeper Mark McReynolds kept his side in the game with a wonderful save from Liam Martin.
The decisive goal came three minutes from the end, Jason Carberry delivering long to fellow sub Aidan McGarrity to slot neatly to the net.
St Patrick's: M McReynolds, R Jones, S Molloy, M McAleer, E Deeney (0-1), S McGarrity (0-1), S Quinn, C McFall (0-1), P Barker, D Quinn (0-1), K Morgan, H  Og Conlan (1-0), S Lavery, R Devlin, L Girvan (0-5, 4f)
Subs: A McGarrity for Quinn, J Carberry (1-0) for Barker, M Campbell for Deeney
St Michael's: B McAleer, N Shannon, R Brennan (0-2), K Connor, T Daly, L Leonard, R Porteous, R Hyde, R Donnelly, A Breen (0-1), R Corrigan (0-3, 2f), E Courtney (0-1), JJ Strain (0-1), S Quigley (0-4, 2f), B Owens.
Subs: M Blake (0-1) for Strain, J Strain for Hyde, S Lynch for Porteous, L Martin for Blake
Referee: M McErlane (Derry).
—
Videos from both BT MacRory Cup semi finals can be viewed at www.jeromequinnmedia.com