Club Officer Training for Antrim, Derry and Armagh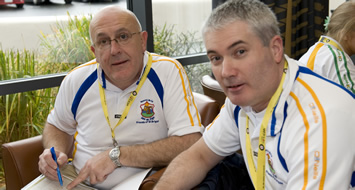 The 2011 Club Officer Training Programme has been delivered in six counties: Tyrone, Monaghan, Down, Donegal, Cavan and Fermanagh.  In March this programme will be rolled out to Antrim, Derry and Armagh meaning that all club officers across Ulster will be fully trained on the key issues which will affect them in the forthcoming year.
The training compliments last year's role specific officer training.  This year the training focuses on key issues rather than officer roles.  There are two plenary sessions as part of this training: Building a stronger club and Ulster GAA's Road Safety Campaign Live to Play.  There are also four interactive workshops for delegates including: Raising funds in 2011, Applying for Club Maith, Club Development Planning and Child Protection.
Clubs are urged to send at least four delegates to this training.  The session throws in at 9am and concludes with lunch at 12noon.
Antrim – Saturday 5th March in Edmund Rice College, Glengormley
Derry – Saturday 12th March in St Patrick's School, Dungiven
Armagh – Saturday 26th March – venue to be confirmed
Any clubs wishing to register for the Antrim, Derry or Armagh event should contact sharon.haughey.ulster@gaa.ie as soon as possible or telephone 028 37517 180