Development Squad Coaches Training Day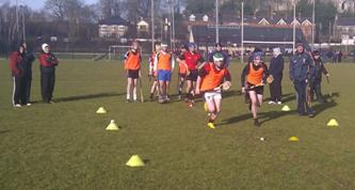 Ulster GAA recently organised a course to help develop the Provinces Hurling Development Squad Coaches.  The course took place in Sherry's Field in Armagh and there were 30 coaches in attendance.
Ulster staff delivered a series of interactive workshops with Armagh and Down development squads.  During these sessions the Development Squad Coaches were constantly challenged to observe the players and provide feedback to help the players to identify what they were doing and to question them on how they could improve their performance.
Workshops delivered included:
Striking
Catching
Tackling
Contesting the Ball
This was a challenging day for the coaches and it is hoped that the skills displayed on the day will be brought back and utilised when delivering sessions to the Development Squads at all age levels within each county.