Disability GAA Fun Day for Schools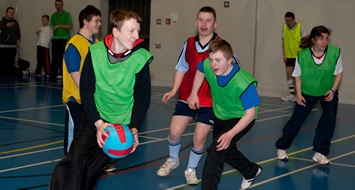 On Thursday 3rd Feb Ulster GAA hosted a GAA Fun Day for special schools in the South Ulster area. This cross community event, in Orchard Leisure Centre Armagh, hosted 42 boys and girls of varying ability levels, from 4 different schools including Lisanally School Armagh, Sperrinview Dungannon, Ceara Lurgan and Holy Family from Cootehill.
After a few warm up games and activities the children tried out some of the Gaelic skill stations that were set up in the hall, including kicking, catching, bouncing, hurling dribble, striking and fist-passing.
They were then split up into teams and introduced to 3 games (Gaelic football tennis, Gaelic volleyball and indoor hurling) before breaking for lunch.
To finish the day off the children got the opportunity to represent their school in adapted games of indoor Gaelic football. Considering that none of the children had never seen Gaelic football let alone played it, the level of skill was extremely high and the games were very enjoyable.
Of course the day was all about taking part, learning new skills, getting some exercise and having a bit of fun in a non-competitive environment.
Thanks to the schools for taking part, Orchard Leisure Centre for use of their facilities, Roisin O'Hagan (Active Communities coach) and Ulster GAA staff Shane McCann, Sheena Tally and Diarmaid Marsden for making the day a great success.