Donegal and Tyrone Unite Against Hate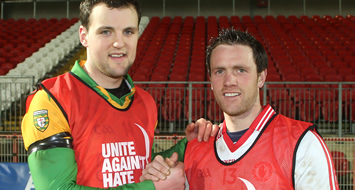 Ulster GAA continue to promote the Unite Against Hate message: that hate crime is wrong and we should not tolerate it within our communities.
A Unite Against Hate billboard campaign was launched in Stormont in mid-February. A mobile billboard travelled to large events through-out the province and was present at the Tyrone V Donegal National League game in Healy Park on Saturday 19th February. Both teams lent their support to the campaign by donning campaign bibs during their warm-up. Campaign supporters are Donegal's Michael Murphy and Tyrone's Martin Penrose pictured after the game. More information about Unite Against Hate can be found at http://www.uniteagainsthate.org.uk/ or by contacting Maura Kelly at Ulster GAA.