GAA Clubs Awarded at Clubmark NI Ceremony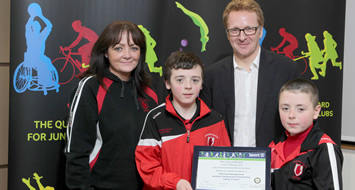 Club Maith accredited clubs Lamh Dhearg CLG, Co. Antrim, and Eglish St Patricks GAC, Co. Tyrone were honoured at a Clubmark NI presentation night hosted by Sport NI in University of Ulster Jordanstown.
The awards ceremony marked the beginning of the Clubmark NI club accreditation scheme in which Ulster GAA are licensed through Club Maith.
Club Maith is a GAA specific club accreditation scheme which aims to award good practice of Clubs in the five core areas of GAA club business: Governance; Duty of Care; Community Enhancement; Culture and Heritage; and Coaching and Games Development.
Eglish St Patricks and Lamh Dhearg are the first GAA clubs to have been awarded under the licensed Club Maith scheme, each receiving a Gold award. "Applying for Club Maith" workshops continue to be rolled-out across all nine counties through the Club Officer Training programme. For more information on Club Maith please contact Maura Kelly on maura.kelly.ulster@gaa.ie