McKeever Sports Ulster Schools All Star Awards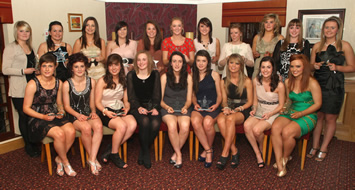 Friday past saw the announcement of the 2011 McKeever Sports Ulster Schools All Star Awards at a presentation banquet held in Quinn's Corner where twenty girls from sixteen schools, representing seven counties picked up their awards in front of family and friends.
The selection process began back in November when 115 girls were nominated by their schools to be considered for an award.  After a series of trials the field was reduced to 45 and after many attempts at organising the second round of trials, eventually pitches became unfrozen and the trials got underway allowing 20 to be selected for the final team.  Ulster GAA provided the selectors for the process in the form of Sheena Tally, Gary Mallon, Paul Rouse and Tony Scullion and all agreed that it was the toughest selection to date.  "Any girl who got an All Star award this year thoroughly deserved it", said Sheena Tally speaking at the awards night.  "With absolutely atrocious weather conditions on every day of the trials the girls really earned their spot on the team.  The standard was so high this year, they certainly didn't make our job easy!"
At the presentation dinner Louis O'Donnell, Ulster Schools Chairman spoke of his delight at the range of players on this year's squad saying that it was very encouraging to see so many schools and counties represented, as well as all grades of competitions getting a fair shot.  He also thanked Mary Keegan and Sheena Tally for their tireless work in organising schools football and blitzes throughout the year.
After further speeches from the Ulster President Hugh Devenney, National Development Officer Joe Lagan and Ulster Administator Mary Keegan the awards were presented to the girls by the schools chairman and Noel from McKeever Sports.  The McKeever Sports All Star team of 2011 is as follows:
1 – Katie Farrell – Our Lady's Grammar School, Newry
2 – Clara McMenamin – Loreto Grammar School, Omagh
3 – Stephanie Cochrane – St Genevieve's High School, Belfast
4 – Sionainn McConville – St Michael's Grammar School, Lurgan
5 – Kayleigh Fleming – St Mary's, Limavady
6 – Alana McShane – Holy Cross College, Strabane
7 – Anna Finnegan – Our Lady's & St Patrick's College, Knock
8 – Laura McEnaney – St Louis Secondary School, Carrickmacross
9 – Aoife Lennon – St Catherine's College, Armagh
10 – Kirsty McGuinness – St Genevieve's High School, Belfast
11 – Aine Canavan – St Ciaran's College, Ballygawley
12 – Barbara Ward – St Louis Secondary School, Carrickmacross
13 – Aoife McCullough – St Paul's High School, Bessbrook
14 – Geraldine McLaughlin – Loreto Convent, Letterkenny
15 – Caoimhe Mohan – St Louis Secondary School, Monaghan
16 – Niamh Friel – Loreto Convent, Letterkenny
17 – Niamh Kelly – St Mary's Grammar School, Magherafelt
18 – Fionnuala McKenna – St Catherine's College, Armagh
19 – Mairead Cooper – Rathmore Grammar School, Belfast
20 – Lisa Marie Skeffington – St Joseph's Grammar School, Donaghmore