New Identity for Ladies Gaelic Football in Ulster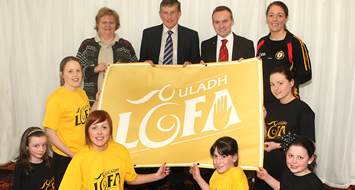 Ladies Ulster President Hugh Devenney was joined by Ryan Feeney from Ulster GAA to unveil the new crest that will now be used as the identity for the Ladies Gaelic Football in Ulster.
The process involved in coming up with the new crest began in October of 2010 when a focus group was established to look at the existing crest. Following financial support from Ulster GAA the focus group then took their brief to Laird Design who produced two crests for consideration.  At the Ulster Convention in January this year all delegates present voted on the new crest that is to represent the Ladies Gaelic Football Association in Ulster.
As explained by Sheena Tally, Ladies Football Development Officer for Ulster GAA, "The crest decided upon presents the G of Gaelic as an elegant rendering of a female player gathering the ball at pace.  The style of text maintains our celtic identity while the red hand links us to the rest of the GAA family in Ulster and makes us instantly recognisable."
Speaking at the launch the Ulster President Hugh Devenney thanked Ulster GAA for their support in making the process happen.  He also commended Laird Design on their work in coming up with such an innovative design for the future of Ladies Gaelic in Ulster.
Pictured with 3 of the 2010 All Stars and children from the Killeeshil club in Tyrone is Mary Keegan (Ladies Ulster Secretary), Hugh Devenney (Ladies Ulster President), Ryan Feeney (Public Affairs Manager, Ulster GAA), Sheena Tally (Ladies Gaelic Development Officer, Ulster GAA)