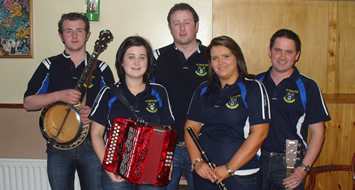 The Ulster Finals of Scór Sinsir were held in Abbey CBS, Newry on Saturday 12th March 2011.
The competition was once again of a superb standard, and all the spectators were treated to a great evening's entertainment.
Congratulations to all the winners, and good luck as they go on to the All Ireland Finals on Saturday 9th April.
Scór Sinsir Ulster Final Winners:
Rince Foirne: Coill an Chlochair, Tír Eoghain
Amhránaíocht Aonair: Máire Ní Chonaighle – An Baile Nua, Fear Manach
Ceol Uirlise: An Droim Mór, Tír Eoghain (Pictured)
Aithriseoireacht: Niamh Ní Dhaimhín – Carraig Chrupáin, Ard Mhacha
Bailéad Ghrúpa: Coill an Chlochair (Naomh Mhuire), Tír Eoghain
Nuachleas: Seán Mac Diarmada, Muineachán
Rince Seit: Scairbh na gCaorach, Muineachán
Tráth na gCesit: Bréadach, An Dún
The Patsy Nugent Cup went to Tír Eoghain.
Video highlights of the Ulster Champions will be posted on www.ulster.gaa.ie following the All Ireland Finals.