Tyrone 1st Year Indoor Airbourne Hurling Blitz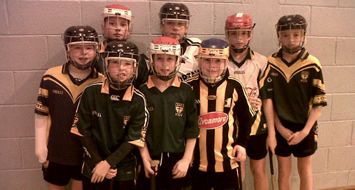 Six schools from all over Tyrone attended the above blitz on Friday 4th February at Omagh Leisure Centre.  Omagh CBS, St Joseph's College Donaghmore, St John's High School, Dromore, St Patrick's Academy, Dungannon, Dean Maguirc College, Carrickmore and Holy Cross College, Strabane all participated in what turned out to be a highly competitive event.
Apart from St Joseph's, all schools had two 5 aside teams present. They were broken into 2 sections and played quickfire 5 minute games.
The players had never participated in Airbourne Indoor hurling before. The game requires good reactions, fast hands and quick decision making and because of the enclosed space the ball has to be released quickly.  For many players it was a challenge lifting and striking as no soloing is allowed but as the games progressed you could sense players using the ball better and adapting to the fast pace of the ball and more and more began having a go at striking the back board of the basketball net which allowed them to score 3 points for their team.
The skill on display as the day progressed was phenomenal considering alot of the players are new to hurling and have only received around 12 hours of coaching.
One schools coach commented at the end of the day "the players are exhausted but thoroughly enjoy each game because they were challenged to do new things, react quicker and it was a real test and incentive to try and hit the back board to score".
24 games were played and from game 1 throughout the blitz to the last game you could see players develop and adapt very well to the conditions and the competitiveness started to shine through as players used to meeting one another in club hurling played alongside each other with new players to the game.
This was Day 1 of a 4 day programme and the schools have committed to attending all the blitz days in Tyrone.