Ulster GAA Coaching Conference a Huge Success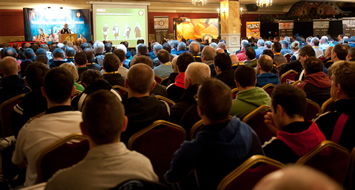 Towards the end of January, Ulster GAA held its annual Coaching and Games Development Conference in the Glenavon Hotel in Cookstown.  The event was a sell-out with delegates coming from clubs across Ulster and across Ireland, Scotland and England.
Ulster GAA's flagship coaching event was once again sponsored by O'Neills Sportswear, and this year's conference targeted coaches who are working with adult players from 17+ years. It built on 2008 and 2009 when we targeted children and youth coaches.
The one-day conference had a packed clár which effectively combined plenary sessions with interactive workshops.
For presentations, photos and videos from the conference please log onto: www.ulster.gaa.ie/coachingconference2011/