Ulster GAA Official participates in the American Management and Business Internship Training Program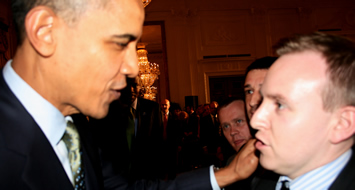 Ulster GAA Head of Community, Strategy and Public Affairs Ryan Feeney returned on Saturday 26thMarch after participating in the prestigious AMBIT course (American Management and Business Internship Training Program). The 13 day programme is organised by the US State Department, trough the American Consul to NI, the International Fund for Ireland and NICVA (NI Community and Voluntary Action). The project brings together a range of Community leaders from several organisations within the Community and Voluntary Sector and this year Ulster GAA was represented alongside organisations such as Extern, PSNI, Community Relations Council, East Belfast Alternatives, New Lodge Arts, NI Association for Mental Health and the Chartered Institute of Housing.
The Programme spent time meeting community groups and civic leaders in Baltimore, Washington DC and Philadelphia who focus on projects that involve community capacity building, housing, fundraising, faith based initiatives and community development.
While in Washington the AMBIT interns were invited to the NI Bureau St. Patrick's Day breakfast hosted by the First Minister and deputy First Minister and were also invited to the St. Patrick's Day reception at the Irish Embassy. Ryan was a guest at the St. Patrick's Day evening reception at the White House and got the opportunity to meet President Obama, Mrs Obama, Vice President Joe Biden and Taoiseach Enda Kenny T.D.
The participants also met with the Governor of Maryland Martin O'Malley whose grandfather hails from Galway and while at the Statehouse in Annapolis Ryan presented the Governor with a special Galway GAA jersey from O'Neill's.