Ulster GAA welcomes Stadia Investment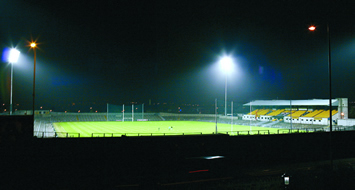 The Ulster Council GAA welcomes the statement made by the Minister for Culture Arts & Leisure Nelson McCausland MLA which includes a commitment by the NI Executive for a capital envelope for strategic and regional sports stadia development. This confirms the existing commitment made by the First Minister Peter Robinson MLA and deputy First Minister Martin McGuinness MP MLA on the 8th April 2009 to meet the strategic needs of the three largest governing bodies of sport, namely Ulster GAA, IFA and Ulster Rugby and we are grateful for their continued support.
In particular Ulster GAA welcomes the commitment of Capital Funding for the re-development of Casement Park, Belfast in order to meet the GAA's Strategic Stadium needs.  We also look forward to exploring the potential of other future funding programmes to meet other GAA infrastructure needs.
We are indebted to the various officials within Department Culture, Arts and Leisure and Sport NI and we acknowledge their input in the process. Ulster GAA is also grateful to the Minister to for Culture Arts and Leisure Nelson McCausland MLA for his commitment to this process and also to his Ministerial colleagues in the Executive and the former holders of the office of Minister for Culture, Arts and Leisure.
The President of Ulster Council GAA, Aogan O Fearghail commenting on the Ministerial announcement said:
"The Ulster Council is pleased that after several years of work by the Stadium Project Board led by Tom Daly as Chairman and Danny Murphy as Provincial Director, we now have a real level of commitment around the future funding for the Casement Park project due to the announcement made  today.
I am grateful to all of those who have made a contribution to this ongoing process and would highlight the continuing input from officials of both the Antrim County Committee GAA and the Central Council GAA and our own Project Steering Board. I am grateful to the Association for their continued support in the development of this project, particularly the Director General Paraic Duffy for his assistance and guidance.
I would also thank the many consultants and advisers who have provided support in this initial stage of the  process: Gilroy McMahon Architects (Des McMahon and Deirdre Lennon), Peter Quinn Consultancy Services (Barry McGurgan), Cunnane Stratton Reynolds (Eamonn Prenter) and Sammon Surveyors (Brian Conway)."