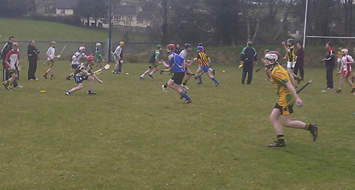 The final Ulster GAA coach education 'Road Show' was delivered to coaches from Tyrone, Derry, Donegal and Fermanagh at the Dromore Sports Centre, Co. Tyrone on Saturday 26th March.
The morning commenced with Ainle Ó Cairealláin, a sports scientist who currently works as full time Coach Development Officer to the Na Pairsaigh Club in Cork City.  Ainle's workshop focused on striking the sliothar and in particular how to equip players with a variety of striking techniques which can be used during a game.
Former Antrim Manager, Dominic McKinley, then 'tackled' the thorny issue of tackling in the game of hurling.  Coaches were challenged to look at the many tackles that can be made during games before Dominic brought his expertise to this area of player development.  Coaches were more competent of coaching the tackle by the end of Dominic's session.
The session concluded with National Hurling Co-ordinator Paudie Butler bringing his unique style of tutoring to the proceedings.  All players were kept active as Paudie tutored the act of catching, while also introducing striking on the run and ball control.
This was a quality session and all coaches participated fully and learned many new skills from each of the presenters.