Ulster Ladies win inaugural Schools Inter-Provincial game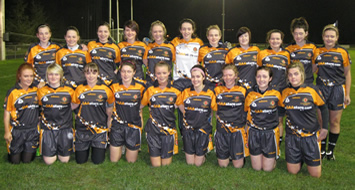 A combined total of 2-13 from Geraldine Mc Laughlin and Caoimhe Mohan helped Ulster to victory over Connacht in the inaugural Schools All Star game played in Mullahoran on Friday 25th March. Whilst Ulster may have won the game 4-20 to 3-13, the real winner was football. On the night forty school girls racked up as many scores, 37 of them from play in a wonderful high intensity game full of skill and passion.
Ulster edged the first half and went in at the break leading 3-7 to 2-8. Geraldine Mc Laughlin fired in two majors and Aine Canavan the third whilst for Connacht Roisin Leonard and Michelle Burke goaled. Between the sides they fired over 15 points, two of which were particularly brilliant. The first was scored by Ulster midfielder Aoife Lennon. She caught the ball cleanly from a kick out, took two steps and pointed from forty metres. The other stand out point was scored by Connacht centre back Emma Hansbury. She won the ball in her own defence and ran almost the full length of the field before unleshing a wonderful score.
In the second half Roisin Leonard and Fionnuala Mc Kenna exchanged goals however the major difference in the sides in the second half was their ability to take points. Ulster hit thirteen while Connacht managed just five. Ulster captain Caoimhe Mohan finished with a tally of nine points.
Afterwards Caoimhe Mohan received the New Mourne Trophies Shiled from Ulster Development Officer Philip O Hare. Connacht President Kathleen Kane praised both sides for the excellent display and hoped that the competition would develop to include all four provinces. Ulster Councils Ladies Development Officer Sheena Tally agreed with Kathleen and suggested that long term the interprovincial competition could become a weekend event.