Under-12 North West Indoor Hurling Competition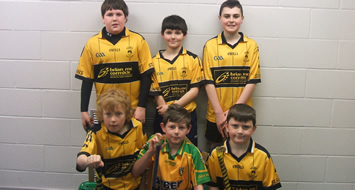 For the past 3 weeks, 17 clubs, from 3 counties have been taking part in the North West under-12 hurling competition. The game is played indoors, with full hurling rules. Teams play 5-a-side with teams scoring by striking the ball against the basketball backboard. The first 2 weeks of the competition were seeding rounds held in the Letterkenny Community Centre, The Old Library Trust Hall (Derry City) and Dungiven Sports Pavilion. The final round was held on Sunday past, 31st Jan.  The A section finals were held in Dungiven and the B finals in Letterkenny.
Overall the standard of hurling was very good and players were clearly developing as the competition went on. Congratulations to all the clubs, players and coaches for their efforts over the past few weeks. A special word of thanks must go to Donal McLaughlin (chairman of Donegal hurling Board), Emmet Stewart (Derry City GPO) and Shauna McCallion (Derry City GPO) for supervising at the various venues during the course of the competition.
The A final was contested between Kevin Lynchs and Ballinascreen with Kevin Lynchs coming out as worthy winners in the end. In the B finals Kevin Lynchs came out on top again, defeating Na Magha in the final.