Win a Live to Play Jersey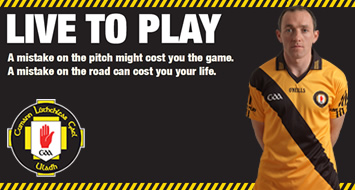 Ulster GAA are giving away FIVE Live to Play jerseys!
Many GAA members will recognise the Live to Play 'seat-belt' Ulster jersey which is worn by all the players involved in this campaign. The jersey design strongly reinforces a Road Safety message through the design of the Black and Amber of the Province.
For your chance to win this unique jersey, just follow the link below and submit your details.
Closing date for entry is Saturday 30th April.
If you aren't one of the lucky one, the jersey can be bought at www.oneills.com with all profits on sales being returned to the programme to enable the good work to be continued!