Armagh send Mourne men packing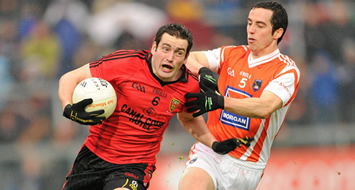 Ulster GAA Football Championship Quarter-final
Armagh 1-15 Down 1-10
Most had pegged Down as favourites for this game but an outstanding second half performance by Armagh saw they safely through to the Ulster GAA Football Championship semi-final.
What a way for these two teams to open their Ulster GAA Championship campaigns: there was open, fast football and some serious point kicking in the early minutes of this encounter, in front of a crowd of 13,107.
An action-packed first half was the best advert for Ulster football. Two goals, one for each team, as well as 14 points between the sides, showed the high standard of kicking forwards on show this evening.
Down opened the game through scores from Mark Poland and Martin Clarke, and showed their early intent in this match. But Armagh hit back with a fine strike.
It only took five minutes for the first goal of the game and what a goal. Danger man Jamie Clarke showed all his quality. He managed to get out in front and cleanly win the ball and left Brendan McVeigh in the Down goal with no chance.
The goal nearly acted as a catalyst for Armagh as they scored three points on the bounce, with Kevin Dyas, Jamie Clarke and a free from Steven McDonnell putting them in complete control.
Both sides exchanged points throughout the first half but Down finished the half the stronger. Two points from Martin Clarke and one from Paul McComiskey narrowed the score to 1-8 to 1-6.
James McCartan's men continued their good scoring form and went a point ahead with Martin Clarke and McComiskey mirroring their scoring pattern at the end first half.
But Down only managed just one further score in the second half as Armagh tightened their grip on the game.
Wing back Aaron Kernan popped up with two points and Jamie Clarke added another fine score to bring his personal tally to 1-2 and put his side back in the lead. His movement caused hassle for the Down full-back line and freed up space for McDonnell and O'Rourke.
Armagh's victory was confirmed with four scores on the bounce in the remaining 15 minutes. Tony Kernan opened his account, Malachy Mackin, Padden and Aaron Kernan made sure that they would comfortably pass through into the next round.
Armagh: P Hearty; A Mallon, B Donaghy, K Dyas; A Kernan, C McKeever, P Duffy; K Toner, C Vernon; T Kernan, BJ Padden, M Mackin; M O'Rourke, S McDonnell, J Clarke.
Down: B McVeigh; D McCartan, D Gordon, B McArdle; C Garvey, Kevin McKiernan, D Rooney; K King, P Fitzpatrick; D Hughes, M Poland, M Clarke; J Clarke, B Coulter, P McComiskey.