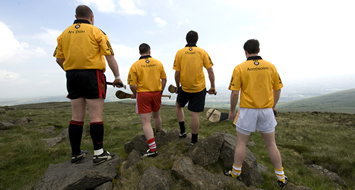 Derry's Ruairi Convery will return to Divis Mountain this Saturday (Saturday 4th June 2011) to attempt to win his third Ulster Poc Fada title in a row.
The Derry hurler has been a regular competitor in this event over the last six years and, having been runner up to current All Ireland Poc Fada Champion, Graham Clarke, on two occasions, he finally won his first title in 2009.
In last year's event he was pushed all the way by Down's Karol Keating before eventually winning out on a measure when both competitors had struck the same number of pucks over the Divis Mountain course.
Other competitors include Antrim and Cushendall ace Neil McManus, who is new to the event and in Camogie former All Star and All Ireland Club winning captain, Jane Adams.
Competition will be held in Senior Hurling, Senior Camogie, Under 16 Hurling  and a fun Over 40's hurling event, where Down's Gary Savage will return to defend his win in 2010.
Getting there:
From M1 motorway:
Leave M1 motorway at Junction 2 (Stockman's Lane).
Take the A55 (Outer Ring), signed Falls.
Go straight across first two roundabouts.
From dual carriageway, turn left on to Upper Springfield Road (B38), follow brown sign for Divis and Black Mountain.
Continue for about 1.5 miles to Cumann Lamh Dearg for changing rooms.
Leaving Lamh Dearg club, turn left and drive for about 0.4 miles before turning right on to the Divis Road, follow brown sign to Divis and Black Mountain.
Continue on the Divis road to the car park, which is located on the left
The course is a short walk opposite the car park
The Lamh Dearg club from Antrim will provide changing rooms for participants and the club rooms will be used to provide refreshments after the event.
Members of the public are welcome to come along and enjoy the event and this area of natural beauty.
All Press and photographers welcome to attend.
For further information please contact:
Ulster GAA Hurling Development Manager: Jimmy Darragh: 07920429204 or email jimmy.darragh.ulster@gaa.ie
Poc Fada Event Co-ordinator: Kevin Kelly: 07920528794 0r email kevin.kelly.ulster@gaa.ie
Ulster GAA Leas-Uachtarán: Martin McAviney – 00353 8625 88884 or email mmcaviney.ulster@gaa.ie