Accredited GAA Qualifications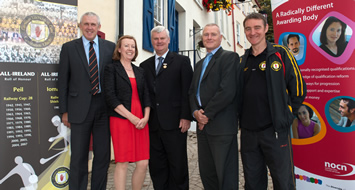 For the first time ever Gaels from across Ulster will have the opportunity to gain a recognised qualification in 'GAA Performance Sports Coaching' and 'GAA Sports Management', both of which are accredited Level 3 Diploma courses.
This exciting initiative has been designed in times of economic hardship and unemployment, with the aim to provide GAA volunteers the opportunity to develop new skills and competencies that will benefit them when seeking employment.
Ulster GAA working with Open College Network Northern Ireland (OCNNI) and Skills Active will deliver these Level 3 Diploma Courses in Armagh from Wednesday 5th October.
Speaking at the launch of this new initiative Ulster GAA President Aogán Ó Fearghail said, "Gaels across Ulster will no doubt be intrigued by this new initiative which offers for the first time ever an opportunity to receive a Diploma in GAA studies.
"We have thousands for volunteers who give their time freely coaching in their clubs from U8s right up to Senior teams.  They do so because they have a love for the Association, for the games, for their club and their community.  Now the GAA wants to give back to those volunteers by providing the opportunity for our members to obtain a recognised qualification so that they can use that for further education or employment.
"I have no doubt that there will be massive interest in these courses.  We have developed the timetable with volunteers in mind and as such the courses will be delivered once a week in the evening time in Armagh City."
Welcoming the joint initiative Brendan Clarke, CEO of Open College Network Northern Ireland said,  "Sport is an integral part of our life here in Ulster, supporting young players and adults alike to make a valued contribution to their local and national community, as well as to themselves and their families – this aligns well with OCNNI's mission as a charity focused on supporting learning.    To be associated with this key development, and able to support it by accrediting such a distinctive and important activity as the GAA coaching programme, is a source of significant pride to the OCNNI.
"The accreditation of this programme will enable the skills and knowledge gained by GAA coaches to be formally recognised through a national awarding body via a national qualification.   Coaches will gain a tailored national qualification issued through OCNNI's status as a national awarding body."
NI Manager for Skills Active Siobhan Weir has also welcomed the launch of the new GAA Diploma courses by saying, ""The formal accreditation of this important qualification is an excellent achievement for Ulster GAA.  Accreditation benefits everyone – from the learner who will achieve external recognition of their skills and the tutors who will be guided by an experienced awarding organisation through to the wider sporting industry which aims to ensure that the hard work of volunteer coaches count towards career development and job satisfaction."
Anyone interested in applying for the Level 3 Diploma in 'GAA Performance Sports Coaching' or 'GAA Sports Management' should contact Course Co-ordinator Roger Keenan on 02837517180 or email roger.keenan.ulster@gaa.ie .  Ulster GAA website has full details also www.ulster.gaa.ie
Photo: Launching the new Ulster GAA accredited courses are Director of Coaching and Games Eugene Young, NI Manager for Skills Active Siobhan Weir, Ulster GAA President Aogán Ó Fearghail, Sean McCormack, Open College Network Northern Ireland and Ulster GAA Coaching Development Officer Roger Keenan outside Ulster GAA Offices in Armagh.