Chinese Students 'Have a Go'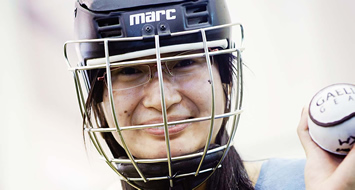 Gaelic Games has international appeal at the University of Ulster with 25 Chinese students signing up for a Hurling coaching session.
Ulster GAA has teamed up with University of Ulster Sports Union President Fintan Woods, University of Ulster's CELT and the International Office to encourage International students to participate in Gaelic Games by holding its first 'Have a Go Day' at the Jordanstown Campus.
The session was facilitated by Ulster GAA Regional Hurling Development Officer Kieran Megraw and it provided International Students the opportunity to try hurling in a fun and welcoming environment.
Speaking after the event Ulster GAA President Aogán Ó Fearghail said, "Ulster GAA is delighted to team up with the University of Ulster for this worthy initiative which is aims to inspire those from non-GAA backgrounds to get involved in Gaelic Games.
"The GAA is an international Association with people playing Gaelic Games across the globe and it is fitting that International Students studying in Belfast have the opportunity to experience Ireland's greatest sporting tradition.
"We hope that some of these students will develop their newly learned skills and get involved in Gaelic Games through their University."
University of Ulster Sports Union President Fintan Woods said, "This is great opportunity for International Students to experience Irish culture. The International Office and University CELT have organised a céile and other events to allow the International students experience other aspects of Irish culture and mix with local students. After being shown clips of Gaelic games the International students expressed great interest in trying it for themselves so in conjunction with the Ulster Council we delighted to provide this opportunity."