U16 Hurling Development Squad Blitzes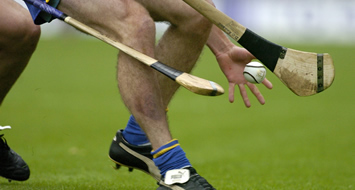 13 teams from 12 different counties representing Ulster, Leinster and Great Britain took part in three separate blitzes organised by Ulster GAA on Saturday 30th July. All nine Ulster counties participated with Down sending two teams – U16's in Division 1 and U15's in Division 2 – while Meath and Laois were guests in Division 1 with London making the trip over for Division 3.
Division 1 was hosted at Pairc Elser with Antrim, Down, Derry, Meath and Laois playing off on a round robin format. Antrim's first game was against Leinster visitors Meath and the Saffrons made an impressive start as they scored a 4.9 to 0.8 victory. The first all Ulster clash of the day saw Down get off to a quick start against Derry only for the Oak Leaf men to peg them back in the second half – Down holding on for a 3.7 to 3.4 win. Laois were represented by their U15 squad and they recorded a hard fought win in their opener – 1.11 to 0.8 – against Derry. Antrim's rich goal-scoring form continued into the second round as the recorded an impressive 6.8 to Down's 1.8.
The third round of games saw an all Leinster derby as Meath got over the Laois men by 1.10 to 1.4 while the all Ulster clash of Derry and Antrim ended in a 4.8 to 0.12 win for the men from the Glens. Antrim proved to be the pick of the teams on the day as they ended their campaign with a fourth win on the spin as goals again were the difference in a 5.8 to 1.9 win over Laois. Meath and Down played out an exciting match that saw the lead change on a number of occasions before the Royals pushed on towards the end to win by 2.13 to 1.10. In the final round of games Meath recorded a victory over Derry – 2.10 to 0.6 – to place second in the group while Down won the battle for third place by defeating Laois on a 3.8 to 1.7 score-line.
Division 2 took place at St Teresa's GAC Belfast with Down (U15's), Armagh, Donegal and Tyrone playing off against each other. In the first round of games Down edged out Armagh by four points 0.9 to 0.5 while Tyrone made a very fast start against Donegal and won by 2.7 to 1.1.
Donegal managed to shake off the cobwebs following their long bus journey and played some fantastic hurling against Down including some excellent scores from play. They notched up an impressive 7.10 to the Mournemen's 0.6. Meanwhile, Tyrone continued their impressive form when they outscored neighbours Armagh by 4.9 to 4.3. They Red Hand county made it three wins out of three when they narrowly won out against a much improved Down team in their final round game by 2.7 to 2.6. Armagh's tough day continued when Donegal cruised to a 4.7 to 2.1 in their final round match up.
Division 3 was hosted at the Monaghan Centre of Excellence at Cloghan and this involved Monaghan, Cavan, Fermanagh and London (who really lit up the day with some fantastic hurling). In the opening round of games, Fermanagh overcame a strong Monaghan challenge by 2.9 to 0.6 with the score-line not really reflecting some fine hurling from the host county. Having spent the previous night in Armagh, London made a really fast start against Cavan and with the aid of the breeze, raced into a 3.5 to 0.1 half-time lead. In the second half, Cavan started to compete better holding London to a pointed free and scoring some nice points from play to leave the final score London 3.6, Cavan 0.7.
Monaghan played some fine hurling in their second round game and were easy winners against neighbours Cavan, running away with a 3.7 to 0.3 win. The match of the day saw London and Fermanagh thrash out a draw with each team scoring 1.6. London wasted some good scoring opportunities in the opening half but still led 0.6 to 0.3 at the break. Fermanagh came out all guns blazing at the start of the second half racking up 1.3 without reply. However, London got to grips again mid-way through the second half and scored an equalising goal. Both teams had opportunities to win the game but in the end a draw was a fair result.
Many thanks to Down GAA, Monaghan GAA and St Teresa's GAC for the use of their excellent facilities on the day and to referees (Niall Clifford, Colm Cochrane, David Carr, Declan Carolan, Gary Cochrane, Gerard McCloskey and Dan Hartnett) for giving up their time to officiate at the three venues.