Club Championships to Brighten Winter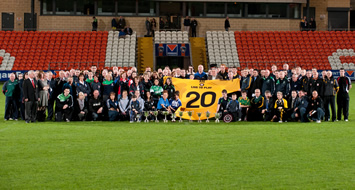 The Ulster GAA Club Championships are said to brighten up the dark, cold winter months with 'unmissable passion, pain and glory'.
The Ulster GAA Council, Ulster Ladies Gaelic and Ulster Camogie have teamed together to promote their individual club championships.  The strap-line for their promotional campaign that was launched on Wednesday evening in the Morgan Athletic Grounds in Armagh is 'Unmissable: Passion, Pain and Glory'.
County Champions from all nine counties of Ulster congregated in Armagh City to officially launch the Ulster Club Championships in all codes.  The event was organised to recognise the achievements of individual county finalists while building anticipation and excitement for the Provincial Championships.
Speaking at the launch Ulster GAA President Aogán Ó Fearghail said, "Gaels are very proud of where they come from.  Identity defines our players, our volunteers and our teams.  Club is everything in this Association.  And this launch of the 2011 Ulster Club Championships highlights the anticipation and excitement as county champions battle it out to be crowned kings or queens of Ulster".
"Ulster GAA Council is delighted to welcome Ulster Ladies Gaelic and Ulster Camogie to this launch as it really showcases the unmissable club action which is taking place over the next few weeks across all codes".
The Ulster President also confirmed the Ulster Council had decided to reduce the admission prices to the Senior Club Championship by 20% bringing the general admission price to £10/€12 and the Senior Citizen price to £7/€8 while all children under the age of 16 will gain admission to the matches for free.
"The Ulster Council has again decided to launch a family friendly pricing structure that will allow families to support their Club and enjoy the entertainment that our games provide at good value. The Council will continue with its policy that allows all children under the age of 16 to access to our games for free, this action underlines Ulster GAA's commitment to young people and families"
Ulster Camogie Chairperson Kathleen Woods stated, "The NWP Ulster Camogie Championships are already in full flow with some great games already played.
"Ulster Camogie has been boosted with O'Donovan Rossa and Eoghan Rua Coleraine successful in the All Ireland Club Championships in the past two years. With 4 Ulster Counties getting to All Ireland Finals in 2011 Ulster Camogie is going from strength to strength, and with the standard of teams emerging to the NWP Ulster Club Championships we hopefully of more success on the national stage."
Ulster Ladies Gaelic President Hugh Devenney said, "Like camogie our Tesco Ulster Club Championships have already got underway with our quarter-finals being played last weekend.  The semi-finals have thrown up some gems of games.  The weekend of 16th & 17th October will provide a feast of football for all ladies football lovers.  We also intend to have a double header for our intermediate and senior finals on the 30th October so we urge all Ulster gaels to come and support us."
—
Photo Caption: Players and managers competing in AIB Ulster Football and Hurling, Tesco Ladies Gaelic and NWP Recycling Camogie Club Championships announcing a 20% reduction in ticket prices for the Ulster GAA Senior Club Championships at the Morgan Athletic Grounds in Armagh.