Derry coaching team turn heads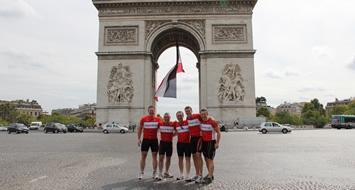 There have been some tired legs among the Derry GAA coaching fraternity after the county's Games Promotion Officer, Chris Collins, and members of the county coaching staff returned to Owenbeg after completing an 800 mile sponsored cycle from Dungiven to Paris raise funds for the  schools coaching in the Oak Leaf county.
The citizenry of Paris have become used to seeing Irish cyclists like Stephen Roche, Sean Kelly and more lately Nicholas Roche powering up the Champs Elysees but a few heads were turned last weekend when Chris, along side county coaches, Emmett Stewart, Diarmuid Scullion, Richard Ferris and Faughanvale clubman Cathal Magee held up traffic at the Arc De Triomphe to mark the completion of the two-wheeled trek which began a fortnight previously from Owenbeg.
Already over £10,000 has been raised by the event and Chris noted that the team had felt a real sense of achievement in completing the marathon distance.
"When we arrived at the Arc De Triomphe everyone was on a real high, we were buzzing, from an idea in the office at Owenbeg to actually cycling to Paris from Dungiven and it was only at this moment that it had really sunk in that we had done it.  Ten days cycling, over 800 miles (everyone completed 700 miles on the bike due to the fact that we had to share the driving), it was some going, parts of it hard and testing but parts of it were just magic. We set up the tripod in the middle of the road and hoped the cars would wait for 10 seconds so we could get a snap, they did and we got a great shot," he said.
The Oak Leaf Cycle Slam is key event in raising funds to maintain the excellent free coaching service that the Derry County Board currently provides to schools all across the county with last year's cycle slam raising over £20,000.
"The Cycle Slam is a great way of raising funds for and awareness of the substantial coaching support that Derry county board delivers to schools within our county.  Currently we have 14 full-time coaches in place providing services such as physical literacy coaching to children at key stage 1, Gaelic games coaching to key stage 2 and secondary school pupils, GAA foundation and child protection certification to sixth form students, professional development for teachers and supervisors and, of course, a substantial programme of games and blitzes for players to compete and demonstrate their skills.
"We believe that the schools within our county are an essential element in building future success on the field of play. We therefore see it as a matter of paramount importance that we keep our level of support at the standards we have set over the past 24 months. We have always provided these services free of charge. Last year Club Derry thankfully funded a Coaching and Games deficit. In the current economic climate we understand that everybody is facing constraints, and although we are adamant that we don't want our schools to suffer, we also don't want to start charging for our services as the majority of our competitors already do," said Chris.