Down GAA FUN Days 'Huge success'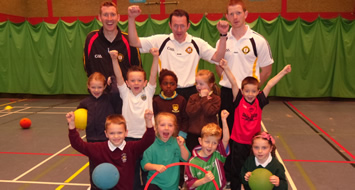 Children across Newry and Downpatrick this week participated in FUN days organized by Ulster GAA coaches to help develop the children's fundamental handling skills. The FUN days were held in Newry and Downpatrick Leisure Centres and were huge successes with a large number of primary school children participating.
A selection of 8 P3 pupils from the local schools along with their teachers attended the event, in total around 200 children took part. Throughout the day the children took part in Games such as Volleyball with a balloon, Over the River, Basketball, Dodgeball and Captains Ball. All the games were non-competitive with the emphasis on Fun and Enjoyment.
The initial reaction from both Teachers and children has been extremely positive with them commenting on the great enjoyment they received from playing the Fun games. After completing the activities the children received a Certificate and a poster of their favourite Down Stars to acknowledge their participation in the Event.
Downs KS1 Coaches would like to thank both Newry Sports Centre and Ballymote Leisure Centre for the use of their venues and help on the Day. We would also like to thank both Down County Board and Ulster Council for their help in making the day such a success.
Participating schools in the Newry FUN Day included: Abbey PS Newry, Ballyholland PS, St Clares Newry, St Patricks Meadow Newry, Attical PS, Kilbroney Integrated Rostrevor, Grange PS, St Colmans Saval and St Bronagh's Rostrevor.
Schools who participated in the Downpatrick Day included: St Macartan's Loughinisland, St.Marys Dunsford, St Patricks Saul, Cedar Integrated, St. Malachy's Castlewellan, Christ the King, Aughlisnafin PS, St Patricks Ballynahinch, St Colmcilles Downpatrick, Holy Family Teconnaught and St Brigids Downpatrick.