Foreign Students Play hurling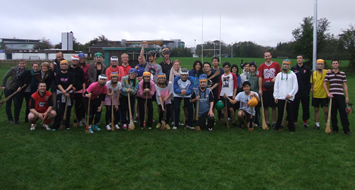 On Wednesday 12th October the University of Ulster at Coleraine hosted a 'Have a Go – Hurling' afternoon for foreign national students who are attending the University.
The day was organised by the universities overseas officer Sean Cunningham. 37 students in all attended from various parts of the world including Hong Kong, Germany, Portugal and France. The players were put through their paces by Derry hurling development officer Kevin Hinphey in what turned out to be a very enjoyable afternoons hurling.
For all the students it was a first experience of hurling and many of them expressed an interest in giving it another go and are keen to watch the Universtiy hurling team in action when their season begins.
Members of the local club Eoghan Rua, Coleraine were also in attendance including Derry senior football captain Barry McGoldrick and Joe Passmore who guided the club camogs to back to back titles this year. Well done to everyone involved, plans are already a foot for another session in the Spring!