GAA to feature on Australian 'Travel Bug'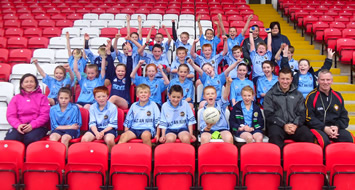 Ulster GAA has been in negotiations with the Northern Ireland Tourist Board to increase the profile of the Association and its activities among tourists visiting Ulster.
As part of this ongoing initiative Ulster GAA recently organised a special GAA showcase in Celtic Park for an Australian TV crew who were filming for a tourism programme.
All Star and All Ireland winner Tony Scullion was at hand to demonstrate the key skills of Gaelic Football.  He also provided an interesting insight into why Gaelic Games is so popular in Ireland, telling his own story about how the GAA was a major part of his life.  The Australian crew enjoyed quizzing Tony, who is Ulster GAA's Football Development Officer, about his former career representing Ireland in the International Series.
Derry Games Development Manager Chris Collins organised a coaching session with local Primary School Altinure, from Park in Derry City to showcase the skills of young GAA athletes.
Travel Bug will feature on seven pay per view lifestyle channels in Australia and the programme will also air in India, Russia, Italy, Thailand, Israel and another 20 or more regions.