Presbyterian Minister challenges GAA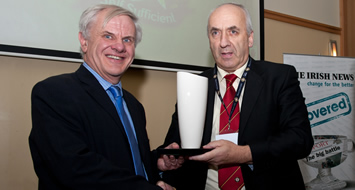 GAA club volunteers crowded into Armagh City Hotel today for the 5th Annual Irish News Ulster GAA Club and Volunteer Conference.
Over 400 Gaels attended the flagship community conference which focused on the challenges facing GAA clubs in harse economic times.
As part of Ulster GAA's ongoing outreach programme Rev Norman Hamilton from the Presbyterian Church addressed conference and received a standing ovation for his contribution.
One of the highlights of the day was a panel session hosted by BBC's Lynette Fay which included some best loved GAA personalities including Mickey Harte, Brian Dooher, Joe Brolly and Peter Quinn. Minister for Culture, Arts and Leisure Cara Ní Chuilin also joined the panel to give her view of current issues facing the GAA.
In his usual humour Joe Brolly entertained the audience with his frank and humorous insights. There was good banter between the panel, a bit of controversy and of course some very open and honest opinions on the big issues of the day. A range of issues were covered during the panel discussion. All members strongly rejected the GPA's controversial proposal to demolish the Provincial Championships with former GAA President Peter Quinn saying it was still his dream to see Fermanagh win an Ulster Championship. There was also emphasis placed on the development of the GAA in urban areas and members welcomed the plans for Casement Park. Joe Brolly said, "Casement Park will be a smaller version of Croke Park. It will be great to have such a stadium in Ulster. I believe the stadium proposal will help regenerate that area of Belfast and will be open for use for schools and community to develop GAA."
Minister Caral Ní Chuilin used the opportunity to promote her LEFA campaign where she hopes to sign 1000 people up to become fluent in the Irish Language. The role of the media was analysed while the panel explored how to ensure the Association is inclusive to all people from all backgrounds. Immigration was a big issue on the minds of the panel and delegates and there was an agreement that Ireland was losing many GAA stars due to the ongoing recession but as Peter Quinn put it 'People always come back to their club and their clubs always welcome back those from foreign shores.'
A Live Link from Australia allowed Ulster President Aogán Ó Fearghail to address the conference. He is currently on tour with the Ireland International Series Team and immigration was also a key issue on his mind, he said, "I have met many of my fellow country men here in Australia. Many have set up home and many more are playing Gaelic Games building clubs over here. These Irish men and women add to the community and sporting life in Australia but they are a great loss to Ireland and their GAA clubs. There is no doubt that we are facing very difficult economic challenges but the GAA is a strong community that will work hard to stand strong during difficult times."
A poignant moment in the day was when former Moderator of the Presbyterian Church Rev Norman Hamilton took to the stage. The 400-strong audience listened attentively as Rev Hamilton posed two challenges to the Association. His first was over the politicalisation of the Irish Language and he urged the GAA to ensure the language was not kicked around in a political game. He said he believed the Irish language has a valued place in our society but if used unwisely then it can be used to antagonise others. He also said he was wary promoting Irish signage as it will only mark territories, just as flags do.
His second challenge to the GAA audience was to help shape coming centenaries so everyone benefits from anniversaries of the past. He highlighted the landmark anniversaries of the Titantic, World War I, and events which shaped the political landscape for the island of Ireland. He said it was important that we acknowledge and remember but should not get trapped in a re-run of the past.
Rev Norman Hamilton received a very warm standing ovation from the GAA crowd as he was presented with a Gaelic piece, designed by Belleek Living from Ulster GAA President Danny Murphy.
—
Presentations and videos from the Conference are available to view at www.ulster.gaa.ie/community/irish-news-ulster-gaa-club-volunteer-conference/