Roe Valley Cúchulainns Honoured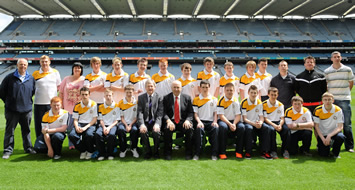 Boys from Limavady Grammar School, Limavady High School, St Marys Limavady, Rossmar Special School and St Patrick Dungiven were honoured this week at a Presentation Evening hosted in St Marys Limavady.
The evening was organised by Ulster GAA to recognise the boys and teachers from the schools involved in the Ulster GAA's cross-community Cúchulainn Cup project. As part of the project players from each of the five schools came together to learn the skills of Gaelic football and hurling, and to compete as the Roe Valley Cúchulainns at the annual Cúchulainn Cup in April. Following this the team were then selected to travel to Boston to represent Ulster GAA in the Continental Youth Cup in Boston.
The boys and teachers enthusiastically gave of their time in attending coaching sessions and challenge games in preparation for their August trip. Paul Callaghan, Regional Development Officer with Ulster GAA, coached the team and was successful in bringing the boys together in a well-rounded and motivated team.
Mr McGilligan (St Marys Limavady), Mr Handforth (Limavady Grammar), Mr McConnell (Limavady High), Mrs Archibald (Rossmar Special School), and MrMcMullan (St Patricks, Dungiven) travelled with the players to Boston alongside personnel from Ulster GAA, including Ulster President Aogán Ó Fearghail, and Provincial Director Danny Murphy.
Monday's Presentation Evening gave an opportunity to relive some of the highlights of the project including a tour of Croke Park, and ice-skating in Dundonald prior to heading to Boston. A slideshow of photographs allowed parents to share their sons' week-long Boston experience including a day spent at Six Flags Waterpark, a tour of Red Sox Baseball Stadium Fenway Park, sightseeing in downtown Boston, a reception at the Irish Embassy, a tour of Boston College, and of course days spent playing Gaelic games at Boston GAA's Canton Park.
Teachers from the various schools spoke highly of the boys, for their excellent behaviour, and enthusiasm for the project. This was re-iterated by Ulster President Aogán Farrell, who also thanked the parents for their co-operation and willingness to become involved in what he described as a "very worthwhile project ". Speakers acknowledged the commitment of Ulster GAA to the project and thanked all those involved, namely Paul Callaghan (team coach), and Stephen Donnelly and Maura Kelly who co-ordinated the trip.
Team captain Brendan Ferguson was very grateful for the "once in a lifetime opportunity", and explained how he now regards the other Cúchulainn players as his close friends. Principals Mrs McCloskey (St Marys Limavady) and Mr McLaughlin (Rossmar School) spoke of how relationships between the five schools were strengthened as a result of the project, and re-iterated the praise for the players as great ambassadors for their families, schools, and entire Roe Valley area.