Scór and Ulster Scots come together for Armagh concert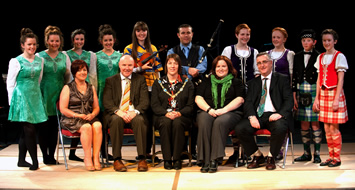 Armagh County Board in association with the Ulster Scots Agency hosted a very special cultural evening recently which showcased the GAA's finest Scór performers alongside artists from the Ulster Scots Tradition within County Armagh.
This flagship initiative was led by Armagh GAA's Cultural Committee to promote good relations within the county between two different communities – the GAA community and the Ulster Scots community. Through music, song, dance and story-telling the audience embraced the differing traditions and everyone left the Navan Centre with a new understanding of each other's culture.
Speaking at the event Chairman of Armagh County Board Paul Duggan said, "We in Armagh are very proud of our thriving GAA community – we are proud of our identity, of our culture and our traditions. We are also proud that we are an Association which respects others and promotes peace building by reaching out the hand of friendship.
"This special culture evening has been an opportunity for two communities to come together to share our common interest and love for music, song and tradition. By exploring each other's traditions I hope we can embrace our differences and respect each other's proud identities."
Paul Duggan continued, "At the Armagh County Senior Final last week, I had the honour of welcoming 10 young lads all from non-GAA communities from the Markethill and Glenanne areas to the Morgan Athletic Grounds. The boys had never been to a Gaelic Football match before and were intrigued by skill and determination of the mighty Crossmaglen team and have since asked for coaching sessions for their area. This highlights that Gaelic Games can break down barriers and help build good relations. I hope this is the start of many more outreach projects for the County."
Mayor of Armagh City and District Council Cllr Freda Donnelly officially opened the event which took place at the Navan Centre. A large crowd enjoyed the outstanding performances from local people, of all ages and backgrounds. At the end of the stunning concert it was very poignant when all the performers came together on stage to perform the concert finale. It was wonderful to see Irish Ceili dancers stand side by side highland dancers and Irish Fiddlers beside the Ulster Scots Bagpiper. It was truly a memorable night.
The Director of Ulster GAA Danny Murphy congratulated Armagh GAA and the Ulster Scots agency for their partnership in the organisation the event. He said, "I hope this is the first of many events we can organise with our colleagues in the Ulster Scot's agency, well done to Armagh GAA who have taken the lead in establishing an excellent template which can be repeated across Ulster. The GAA has had an engagement with the Ulster Scots agency for some time now and I am delighted to see this event take place in the fitting setting of the Navan Fort, this is cultural diversity and respect in action."