Cross Secure 9th Ulster Title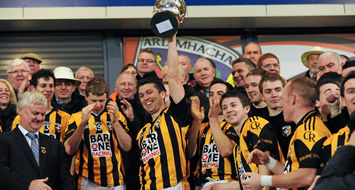 AIB GAA Ulster Club Senior Football Championship Final:
Crossmaglen (Armagh) 2-11 Burren (Down) 0-10
A goal in either half helped Crossmaglen collect their ninth Ulster Club Championship with a comfortable win over Burren.
Veteran Oisin McConville and Kyle Carragher were on hand with goals at vital stages in the game to make sure that Cross would cruise to victory.
The Armagh men raced into an early 0-5 to 0-0 in the opening minutes of the game and looked to be totally in control. Points from David McKenna, Aaron Cunningham, Aaron Kernan and Jamie Clarke helped that early lead.
Things got even worse for Burren when influential midfielder Anton McArdle was red carded for an off the ball incident. Donal O'Hare helped his Burren side get off the mark but it was not looking good for the Down men
But Cross managed to put a real stamp on the game and it was that man again Oisin McConville with a goal on twenty minutes and he followed that up with a point as well.
For the side who have been here so many times before, Crossmaglen showed their experience by going in on top at the break 1-7 to 0-5.
Cross could be accused of wasting a number of chances at the beginning of the second half and allowing Burren mount a comeback in the second half and the Down men managed to get to within 3 points of the favourites.
But any sort of an upset was killed off when Carragher rattled the back of the net and crowned Crossmaglen as Ulster club champions.
Scorers:
Crossmaglen Rangers: O McConville 1-2 (0-2f), K Carragher 1-0, J Clarke, A Cunningham 0-2 each, A Kernan 0-2 (0-2f); T Kernan (0-1f), S Kernan (0-1f), D McKenna 0-1 each.
Burren: D O'Hare 0-7 (0-6f), C McGovern 0-2, K McKernan 0-1.
Crossmaglen Rangers: P Hearty; J Morgan, P Kernan, P McKeown; A Kernan, D O'Callaghan, S Finnegan; J Hanratty, D McKenna; T Kernan, S Kernan, A Cunningham; J Clarke, O McConville, M McNamee. Subs: F Hanratty for McNamee (12), K Carragher for McConville (44), M Aherne for F Hanratty (48), K Brennan for Cunningham (60).
Burren: C Murdock; R McGovern, D McCartan, G McCartan; K McKernan, C McGovern, D McEntee; A Higgins, A McCardle; C McGovern, S Murdock, P Poland; D O'Hare, J McGovern, S McArdle. Subs: E Toner for Poland (29), C Byrne for S Murdock (49), G Sands for Higgins (58).
Ref: M Higgins (Fermanagh)
—
AIB GAA Ulster Club Intermediate Football Championship Final:
Craigbane (Derry) 0-6 Culloville (Armagh) 0-5
Craigbane just shaded the Intermediate Final with a late point from full forward Lee Moore.
Despite being reduced to 13 men in the first half, the Armagh champions went into the break leading 0-4 to 0-1.
In the second half, Craigbane came into the game with 2 fine points from Blaine Gormley which edged them into a 1 point lead before Johnny McGeeney's free 2 minutes from full time looked like it had salvaged a replay for Culloville.
However, Moore was to be the hero of the hour with the injury time winner.
Scorers:
Craigbane: B Gormley 0-3, L Moore 0-2, C O'Kane 0-1.
Culloville: K Hatzer, S Watters, F Rowland, C Watters, J McGeeney (f) 0-1 each.
Craigbane: P Sharkey; D McLaughlin, F Crossan, M McGinty; B Rainey, R Moore, C McLaughlin; B Gormley, G Conwell; D Lowry, A Devine, C O'Kane; J McLaughlin, L Moore, R Moore. Subs: R Gormley for Lowry, A McLaughlin for J McLaughlin, N Reilly for Devine.
Culloville: K McMahon; C Meegan, D Rowland, S Liddy; P Caherty, F Rowland, M Watters; P McGeeney, J Kingham; S O'Neill, C Watters, N Rowland; J McGeeney, K Hatzer, S Watters. Subs: P Kingham for P McGeeney, S McGeeney for M Watters.
Ref: C Branagan (Down)
—
AIB GAA Ulster Club Junior Football Championship Final:
Derrytresk (Tyrone) 2-5 Cremartin (Monaghan) 0-10
Goals proved decisive in the Junior decider as Caolan Corr's first half goal sent the sides in level at half time (1-2 to 0-5) then Micky Rea's goal 10 minutes from time sealed victory for the Tyrone men.
Scorers:
Derrytresk: M Rea 1-1 (1f), C Corr 1-0, N Gavin 0-3 (3f), E Rea 0-1 (f).
Cremartin: D Bishop (2f), B Carragher (2f), L McVicar, C Farrell 0-2 each, G Boyd, K Brennan 0-1 each.
Derrytresk: A Quinn; S Slater, K Campbell, K Quinn; E Rea, Cathal O'Neill, J Dillon; C Gavin, R O'Neill; M Robinson, J McKee, Conor O'Neill; N Gavin, C Corr, M Rea. Subs: P Kilpatrick for R O'Neill, L Slater for Robinson
Cremartin: D Lavelle; E Atkinson, P McGuigan, F Mulligan; R Burke, C Mulligan, J McGuigan; N Flanagan, D Farrell; B Carragher, D Bishop, G Boyd; L McVicar, K Brennan, D Mulligan. Subs: C Farrell for Atkinson, P McMahon for D Mulligan, M Bishop for McMahon.
Ref: G Walsh (Antrim)