Fermanagh DENI Coaching Activities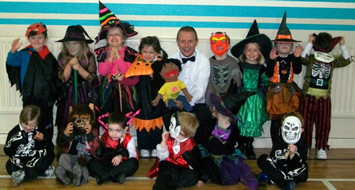 DENI Key Stage 1 coach Owen Mooney recently organised a FUN day through the theme of Halloween in St Patricks Derrygonnelly. The theme was on Handling and involved activities related to bouncing, catching, throwing & hand passing as well as activities on what Halloween is about and why is is a good time of year to dress up and look scary.
The children had a great day in their spooky costumes and really enjoyed the activities.
Owen is pictured with P1 in St Patricks Derrygonnelly as well as his new puppet friend Genie, who was kindly given to him by the Principal Mrs Eileen Glynn.
Health Speak
DENI Key Stage 1 coach Owen Mooney organised Several Health Speak days during Halloween week. On Monday 24th Oct, Owen, as well as DENI Key Stage 1 coach Teresa McNabb and Ulster Games Manager Terence McWillams were in the Moat Controlled P.S. and Thursday 27th was spent in Aughdrumsee Controlled P.S. This is the 3rd year that these days have been available for schools to take advantage of and they are proving a huge success due to their interactive health activities, health games, team games and poster sessions.
Pictured are Primary 1 and 2 children from St Nailes Kinawley who had their Health Speak day on Tuesday 25th Oct. Primary 2 teacher Colleen Melanophy "The Health day was a great way of getting the children aware of how their bodies work and what is important to keep you healthy. All the children as well as the staff thoroughly enjoyed the day."
Fermanagh Secondary school day
Over 80 eager boys and girls turned up in Lissan, Co. Fermanagh last Thursday the 20th of October 2011 for Hurling and Camogie's first joint secondary school blitz.
Following on from schools receiving some expert coaching from Fermanagh's newly appointed Hurling Development Officer Paul Divilly the day was devised to give as many boys and girls in Fermanagh the chance to try out Hurling and Camogie and enjoy playing the game.
After evaluating the success of this Come and Try it Day and the interest and skill level shown by participants this is just the first of many new exciting initiatives in store for the young Hurling and Camogie players of Fermanagh.