GAA/IFA Olympic Fun Day in Antrim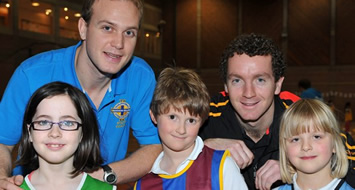 The Olympics came to Antrim on Monday 21st November in an Olympic Funday organised by the IFA and GAA. The event was aimed at raising awareness of the London 2012 Olympics and Paralympics and also to raise awreness of the IFA/GAA Primary School Programme. Over 100 children from Parkgate PS, Rathenraw Integrated PS and St Comgall's PS took part in the event which was aimed at P3/4 children of all abilities. The event gave children the opprtunity to take part in different Olympic and Paralympic sports such as seated volleyball and the javelin. The event was organised by IFA coach Colin Roden and Ulster GAA coach Eoghan Gribbin.
The Olympic Fun Day gave children the opportunity to practice skills such as throwing and catching which they learn with their IFA/GAA coach on a weekly basis.
Colin Roden IFA Primary School Coach Antrim commented, "The day was a huge success and with less than 250 days until the opening ceremony of London 2012, the day gave the children a chance to participate in Olympic sports they may never have tried or even heard of before. A huge thanks goes out to all teachers, children and IFA/GAA coaches involved in the successful event."
Children were split into different Olympic countries and they designed a poster to represent their country. All children also received an Olympic Gold medal for taking part in the event. The profile of the event was further raised by guest appearances from IFA President Jim Shaw, IFA Chief Executive Patrick Nelson, Antrim Lord Mayor Paul Michael and Ulster GAA's Secretary Danny Murphy, Games Development Manager Terence Mc Williams and Regional Development Officer Diarmaid Marsden.
Ulster GAA Primary School Coach Eoghan Gribbin added "Todays event showcased partnership working between sporting organisations and the impact sport can have on a community. It not only allowed for children to participate in a variety of Olympic and Paralympic games but also provided a platform for friendships to be developed. I would like to echo Colin's sentiments in expressing my thanks to the Antrim Forum, Coaches from GAA/IFA, Schools, Children and Special Guests in attendance."
Antrim After Schools Programme
St Brigid's Primary School and St Patrick's High School Ballymena have shown how both schools can work in partnership to develop the learning of their students through an after schools initiative set up by DENI Primary Schools Coach Eoghan Gribbin. The students of St Patrick's High School give their time to gain experience in coaching the children of St Brigid's Primary School during their after school Gaelic Club. It provided an opportunity for the students to attain a foundation award coaching certificate and for the children to receive coaching from enthusiastic young coaches.