Ulster GAA 'Investing in Volunteers'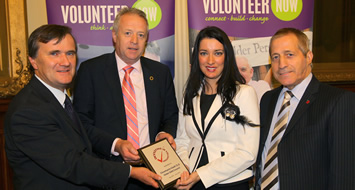 Ulster GAA Council has been awarded the 'Investing in Volunteers' standard which recognises and promotes best practice in volunteering.
Being awarded this standard is a significant achievement for any volunteer-led organisation but is all the more significant for Ulster GAA Council as this is the first time any sporting governing body has been awarded the standard across Ireland, England, Scotland and Wales.
Speaking at an Awards Ceremony held at Belfast City Hall recently Ulster GAA Vice-President Martin McAviney said, "We are very proud to have achieved this standard which is all about our volunteering practices. Ulster GAA Council is 100% driven by volunteers. All our members and officers are volunteers and we believe this award recognises the invaluable contribution GAA volunteers make not only to the Association but to our communities.
"We are honoured to be the first sporting governing body to achieve this award and we believe this is testimony to the strong and proud tradition of volunteerism and our amateur ethos of the Association. This is what makes the GAA so special.
"I commend the steering committee who overseen this work assisted by our Volunteer Development Officer Sharon Haughey. There was a lot of work in ensuring our practices and policies were of the highest standards but the hard work of the steering committee has paid off. We will proudly display the Investing in Volunteers badge."
Sandra Adair, Director of Policy and Capacity Building, Volunteer Now said she was "delighted to present this Award to the Ulster GAA Council. Volunteers are at the heart of the GAA and things just would not happen without them. This Award demonstrates the Council's commitment to ensuring that volunteers' contributions are valued and well managed."
For further information Contact: Sharon Haughey 02837517180
Photo caption to read:
Ulster GAA receives its 'Investing in Volunteers Award' at Belfast City Hall.
Pictured L to R: Will Haire (DSD), Martin McAviney (Ulster GAA Vice President), Sharon Haughey (Ulster GAA Volunteer Development Officer), Martin Busch (Volunteer Now representative)