Canadian County Board Convention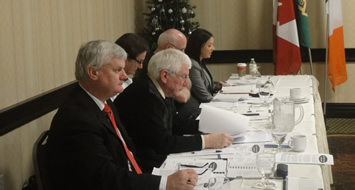 The Gaelic Athletic Association's Canadian County Board's Annual Convention was well attended with keen debate on Sunday, December 4 in Ajax, Ontario.
In five provinces of Canada are 12 cities with 18 affiliated GAA clubs. Going from West to East (7,349 km in total) one finds British Columbia's Vancouver Irish Sporting and Social Club; Alberta's Calgary Chieftains, Red Deer Eire Ogs (Mens), Edmonton Wolfe
Tones, Fort McMurray Shamrocks(Mens); Ontario's Toronto St. Mikes, St. Pats (Mens), St. Vincents (Mens), Gaels (Mens), Toronto Camogie Club and the Toronto Hurling Club, Durham Robert Emmets, Brampton Roger Casements, Michael Cusacks (Ladies), Ottawa Gaels, Quebec's Montreal Shamrocks, Quebec City's Les Patriotes and Newfoundland/Labrador's St. John's Avalon Harps.
The Toronto Minor Board was present with attendance from the Toronto Chieftains, Durham Shamrocks, Brampton Rebels and the Ottawa Gaels.
Special guest was Uachtarán Chomhairle Uladh C.L.G. Aogán Ó Fearghail who gave encouraging and informative addresses to the attendees. He was pleased to see the Covention's acceptance of the Canadian County Board's Strategic Review and Action Plan for January 2012 – December 2015 which was developed under the leadership of High Performance Director Dr. Eugene Young, Secretary Danny Murphy and Overseas Chairman Tom Daly from Ulster Council.
Discussions are taking place regarding the possibility of Toronto hosting the 2012 Ladies All Star Tour, a Canadian Championship to celebrate the 25th Anniversary of the County Board and the Continental Youth Championships being held in Canada for 2015.
The November 2011 report from the Annual Congress Review Work Group was reviewed by Canadian delegates who voted in favour of Annual Congress being held in Croke Park from 2014, that the date of Annual Congress be brought forward to February and that the size of Congress delegations be reduced as outlined in the report. Canada would be reduced to two delegates from the four delegates of years gone by.
From clubs submitting motions to the County Convention, for the third year in a row, the debate about sanctioned players drew attention. A motion by Brampton Roger Casements to change Bye Law #17 that states a maximum number of seven sanctioned players and that a club fielding a second team or junior team would be allowed to register 3 additional sanctioned players be amended to 7 sanctions. It did not gather the required two/thirds majority and was defeated. St. Mike's motion to extend the end date for sanctions for Canada to July 20 from July 1 was defeated also.
Four other motions concerning affiliation with Ladies Football and the Camogie Association, Divisional regulations and governance that were submitted by the County Board to the Convention were approved by delegates.
Chairman Brian Farmer (Durham Robert Emmets) is in the third year of serving a three year term. Aogán Ó Fearghail conducted the election of officers where Vice-Chairman Jarlath Connaughton (Ottawa – Gaels), Treasurer Eddie Mangan (Durham Robert Emmets), Secretary John O'Flynn (Vancouver – ISSC), and Development Officer Lorraine Morley (Toronto-Michael Cusacks Ladies GFC) were re-elected to one year terms.